The Unexpected But Handy Way To Repurpose A Silverware Drawer Insert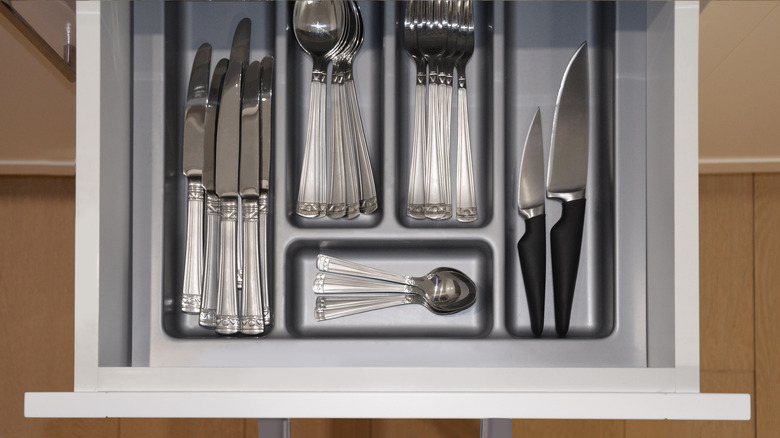 Gaieva Tetiana/Shutterstock
Most every kitchen has a silverware tray tucked within one of its drawers. They handily keep cutlery items organized and easy to grab. You may have thought about using these essential caddies in other drawers in your kitchen to hold small tools for cooking and baking, not to mention the junk drawer where everything under the sun tends to accumulate. But what about the bathroom? What works in one busy area of the home can be a lifesaver in another room, too. Think about it: What if all your dental care implements, for instance, were actually neatly organized and in a single space?
Yes, you can place a silverware tray in most any bathroom drawer to keep digging around for what you need to a minimum, while eliminating counter clutter. This can make the morning rush hour when everyone's trying to get out of the house at once much more manageable, and family bedtime hygiene less stressful when it's time to unwind and relax. 
More ideas for bathroom organizing with silverware drawer inserts
Now that you're thinking it would be nice not to have to dig around for the floss every night, think about other drawers filled with a jumble of useful things you can sort out. Where to start? How about that makeup drawer? With cubbies for brushes, eye pencils, and pans of eye shadow, you'll be able to find everything with ease. Moving on to hair care, you can sort ponytail holders, brushes and combs, clips, and all those other small accessories that can easily end up in a disorderly mess.
Be sure to measure the length and width of your drawers first, so you pick up the right tray size. Many cutlery trays you can use for this purpose are adjustable with sides that slide in and out to fit the size of your drawer. They're also made of a variety of materials, so you can choose easy-to-clean plastic for messier items, like toothpaste and toothbrushes, and stylish wood for hair care accessories.
Now that you have many ideas to ponder, you might be thinking you could easily run up quite a tab buying inserts for all the drawers in your bathroom. Be sure to check your local dollar store for bargain options, and thrift stores sometimes have gently-used trays like these available at a very fair price. Shop around and you'll have all your bathroom drawers impressively organized in no time.