The Rich Paint Color That's Being Treated Like A Neutral In 2023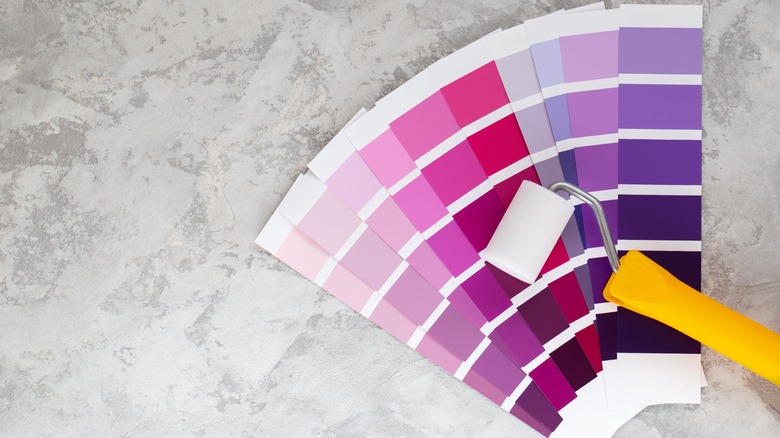 Lana_M/Shutterstock
When scrolling through Instagram photos and Pinterest boards for home inspiration, you might find your eye drawn to moody rooms time and again. There's just something about those deep, seductive colors that are nothing short of captivating. When it comes to choosing the color scheme, though, black and charcoal gray feels a bit overdone. Instead, you might want to try a color with a culinarycore leaning like plum.
This deep purple hue has been viewed as a new neutral for a few years now, and it's still on trend for 2023. "The average person is sometimes a bit scared of the deeper, rich colors, but for me, when you commit to the color, it creates an incredibly sophisticated, very regal, indulgent, and luxurious interior," says Charlotte Cosby, head of Farrow and Ball's creative team in a Maine Home & Design feature. Not sure about an entire room with that much color? A plum-colored accent wall might do the trick with even less effort than painting an entire room.
Plum color variations — from medium shades to super dark hues — work really well with light colored furniture and various wood tones. That makes it easy to change the vibe of your room from modern to moody without having to buy all new furniture. A few updated accents in the form of throw pillows, area rugs, or artwork can tie the look together with minimal expense.
Other ideas for using plum colored paint in your home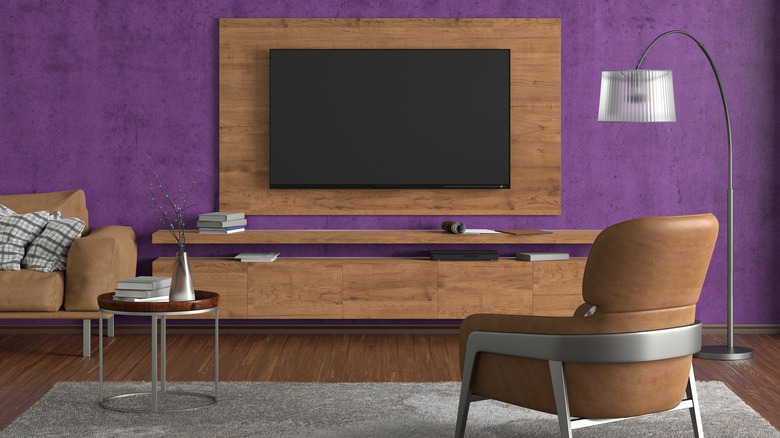 Dmitriymoroz/Getty Images
If painting an entire wall, much less a whole room, any shade of purple just seems like too much, you can try it out in a smaller way. Say, painting the back of your entryway door a plum hue for a pop of on-trend color in an unexpected place. We're also seeing plum entering the kitchen more and more frequently as well. While it might feel a little risky, painting cabinetry this neutral shade of purple is also an option. 
When painted cabinets seem like too much of a commitment, there's always finding a piece of thrift store furniture that could use a new coat of paint and tackling your next DYI project. Interior designers often recommend adding a touch of black in the form of accent furniture, but plum can work just well to introduce some drama to a room that's feeling a bit on the bland side. You may even find that once you start looking at plum as a neutral, it opens up a world of colorful decorating opportunities that will add a luxe air of sophistication to your home.