Is A Squeegee The Secret To Texture-Free Walls When Painting?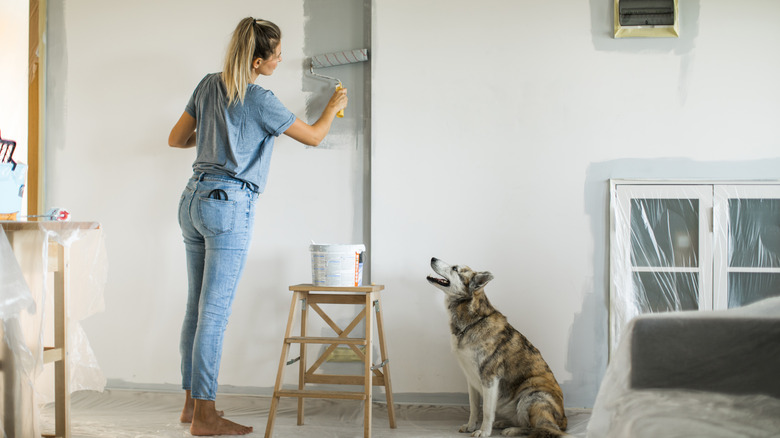 Svetikd/Getty Images
Have you ever painted a room only to find textured divots marring your walls — after they've dried? These usually appear in old houses or apartments, caused by layers of paint that weren't primed or sanded between coats. At this point, you have two options: accept your walls (bumps and all) or sand off the clumps and start over. Odds are you won't feel like repainting your walls, so you'll just accept the minor imperfections, covering some of them with well-placed pieces of wall art. But what if there was a way you could smooth out the texture while you paint, negating the need for sanding? A squeegee might be the answer you're searching for, and you probably already own one. 
Even if you don't own a squeegee, you'll get your money's worth by reusing it whenever you want to clean windows without streaks. You can also tuck your squeegee away with the rest of your paint supplies, ready for use the next time you break out your paint roller. Either way, you'll be happy with this double-duty addition to your painting and cleaning supplies.  
Paint first, squeegee second
If your walls have paint craters all over them, you can easily use this squeegee hack to transform them. According to @sharnenejewell, all you need to carry out this project is the perfect shade of paint, some paint supplies, and a squeegee. Begin by rolling one spot on your walls. (The type of roller used for a painting project also affects the quality of the paint job, with shorter nap rollers being the gold standard for walls.) 
Next, use your squeegee to remove excess paint, the same way you'd use one to remove water from a window. Your paint will fill in those annoying craters, leaving you with smooth walls. If paint builds up on your squeegee, wipe it off to avoid creating streaks. Although it's tempting to layer on more paint right away, you should give your existing paint a chance to dry, breaking the cycle of bumpy walls. You'll alleviate the need to sand or prime your walls before your next paint job while leaving them smooth and looking like new. Plus, it's professional-approved. "Contractor of 20 years here. This is a great method for rough walls!" a user commented. 
Apply several coats of paint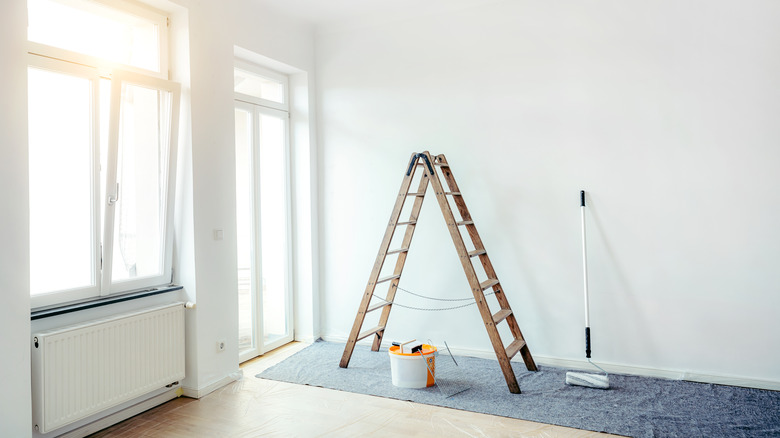 Fotodelux/Getty Images
It might take you several tries to figure out the best amount of pressure to apply when using your squeegee, and you might run the risk of removing too much paint the first time around. Keep in mind that, when using this method of achieving texture-free walls, you'll need to apply several coats of paint. It all depends on how bumpy your walls are.
Every time you squeegee a space on your walls, you'll remove some paint while filling in divots, which means that this hack might take longer than if you paint your walls with a roller and nothing else. However, if you're looking to fill in texture, then it's worth it. If your walls were intentionally texturized using some type of plaster or paint additive (think popcorn ceilings), then this hack won't work. It's intended for minimally bumpy walls that require just a bit of smoothing out.