TikTok Shares A Different Method For Growing Avocado Trees & We're Obsessed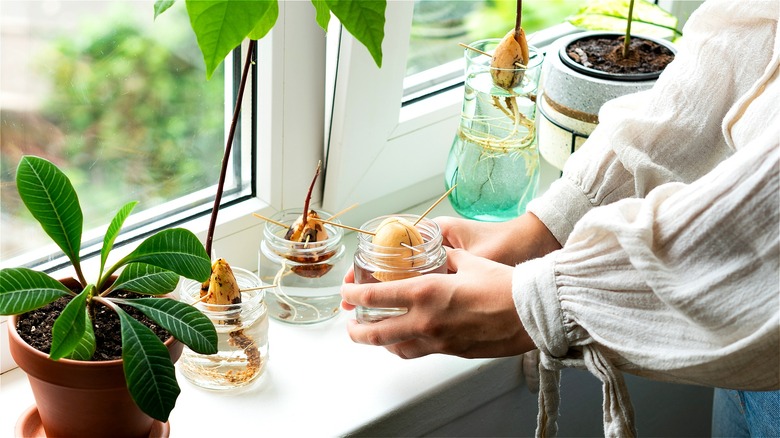 juliaap/Shutterstock
The last time you headed to the grocery store, you might've been tempted to bypass a major ingredient required to whip up a filling morning toast or afternoon snack of chips and guacamole, thanks to its hefty price tag. Avocados have become one of the most expensive items in the produce section in recent years due to high consumer demand. With a bit of patience, however, you can easily start your own avocado tree in a few simple steps, as demonstrated by TikTok creator Arman Adamjan.
Growing your food certainly isn't as quick as heading to the grocery store, but a growing number of households are choosing to try their hand at this new hobby. According to a report from the National Gardening Association, about 35% of households in the United States garden some of their food, whether they chose to create a full-blown vegetable garden or just maintain a few pots on the porch. What's more, public interest in gardening and sustainability skyrocketed as a result of the pandemic, per the University of California at Davis. And so, if you want to join in on the sustainable gardening trend, too, perhaps there's no simpler place to begin than by sprouting your very own avocado tree.
How to sprout an avocado pit
In Arman Adamjan's TikTok video, he walks through each step of the avocado growing process, from seed to sapling. To begin, you'll want to whip yourself up a piece of avocado toast (or another delicious avocado dish) and then save the pit. Soak the seed in some water for an hour or so, then peel off the darker brown outer layer to reveal a light tan-colored pit. Once it's fully peeled, wrap the pit in a damp paper towel, place it in a plastic bag, and store it someplace warm and dark. Adamjan suggests the cabinet above the stove, but a bathroom cabinet or bookshelf by a window can also do the job.
After a few weeks, the avocado pit should start sprouting some roots. At this point, it's time to pull it out of the bag and grab some toothpicks. Avocados sprout best when slightly suspended over water, but not completely sunk in, so stab the toothpicks into the sides of the pit to create some horizontal legs. Fill a glass with water, then place the pit with the toothpicks on the rim in a warm, sunny spot. Over time, you'll see a stem start to grow from the top.
How to maintain an avocado plant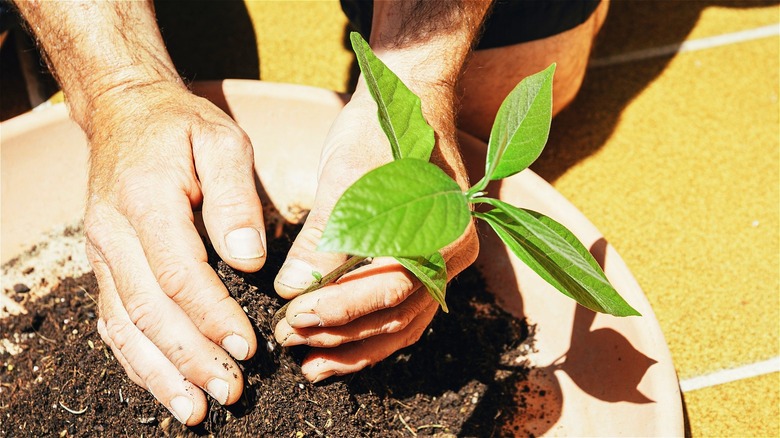 Opiakai Studio/Getty Images
After the stem on top of the nascent avocado tree has reached about 6 inches, TikToker Arman Adamjan recommends trimming down the top 3 inches of foliage. Then, after the leaves grow back, it's finally time to plant. Fill a pot about halfway with soil, transfer the plant, and top it off with more soil until the roots are fully buried. Keep it in a warm, sunny spot, fertilize your avocado tree according to its maturity cycle, and water it two to three times throughout the week. With proper care, it will flourish into a beautiful houseplant that can bring some greenery to your space.
Unfortunately, however, avocado plants take three to four years to actually start producing fruit. So, it'll be quite a while before you can enjoy your first harvest; however, until then, avocado plants can serve a fantastic decorative function for a fraction of the cost of purchasing one that's already sprouted from your local garden supply store.