TikTok's Genius Hack Transforms An Old Pillowcase Into A Trendy Storage Basket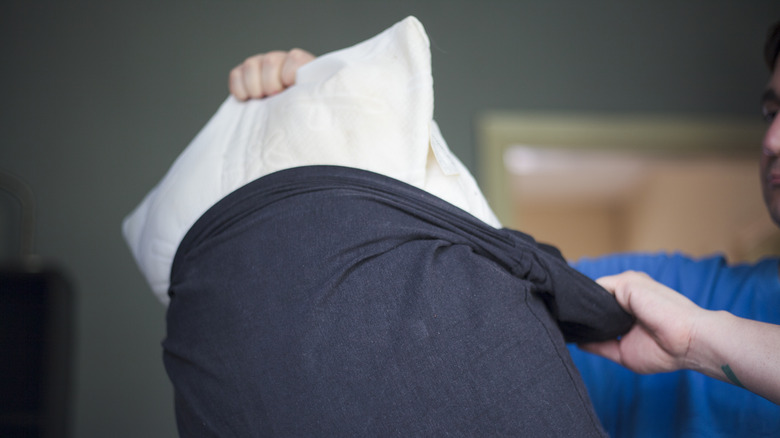 Alican Lazutti/Getty Images
We may receive a commission on purchases made from links.
Having an organized house creates feelings of serenity and calm in your home. One of the best ways to keep things neat and tidy is by using baskets to store all kinds of items. And we're not just talking plastic bins here. You want your storage basket to look attractive. But buying these from the store can get pretty pricey. A little DIY magic can, however, change that. This TikTok hack shows you how to turn a shoebox into a trendy storage basket using an old pillowcase and some rope.
You'll never let go of a cardboard box or old pillowcase again once you see this trick. All you do is wrap some craft rope around a box and glue it in place. Then take a pillowcase and insert it into the box. Fold the top of your pillowcase over the edges of the box and you're done! You have a gorgeous high-end-looking storage basket similar to this one from The Container Store. Plus, using this method allows you to perfectly customize your basket with colors that match your room or decor. You can also make your storage basket as small or as large as you want, depending on what size box and pillowcase you use. 
How to create a storage basket with a pillowcase
For this hack, you'll need a glue gun, hot glue, some craft rope, a cardboard box, and a pillowcase. TikToker @westwing chose to use rope that had a medium-sized thickness, but you can go thicker or thinner if you choose. A 10 ft. roll of 1/4-inch natural cotton rope will cost you about $10 on Amazon. If you're crafty you probably already have a glue gun and glue sticks in your home. If not, you can get one for $6 to $10 bucks, also on Amazon.
Start by gluing your rope to your box starting at the bottom and wrapping it around the box as you go upward. Be sure to keep your lines straight and have your rope as close together as possible. Create rows as high up on the box as you can, but don't worry if a little bit of your box is showing at the top. This will be covered with the pillowcase. Next, place the bottom end of your pillowcase inside your box and smooth it out so it evenly covers the bottom and sides of your box. Fold the top of your pillowcase over the top of your box and tuck the edges underneath so you have clean smooth lines. It can be placed on the floor or on a shelf in your bathroom for storing things like extra toilet rolls or shower accessories.