The Handy Tip To Find The Perfect Sage Green Paint Color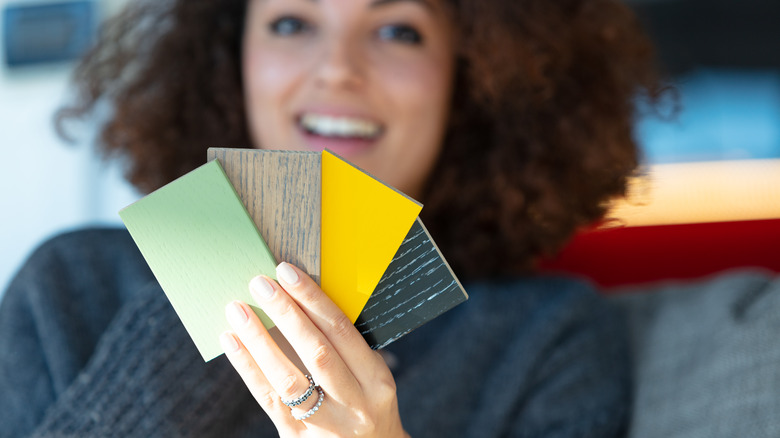 Giulio_Fornasar/Shutterstock
While we love a good paint trend, sage green paint is a perennially popular choice: a calming, near-neutral that works well in many rooms. With subtle differences between sage and other shades of green, it can be hard to choose the right paint — but this design tip makes it easy.
Sage green paint can easily veer into the mint territory. Just like with herbs, you'll want to keep these two apart to get the desired effect. Not sure if a paint swatch is more mint than sage? Hold up a swatch of ordinary green paint next to the swatch in question. 
A mint will look more blue next to the true green, so you'll know you need to choose a different shade. Sage should have more of a grayish tone when compared to true green. If you don't do this test first, you run the risk of finishing your painting project before you notice your "sage" isn't really sage.
How to compare sage green paint
Manuta/Getty Images
Sage green paint can vary a lot depending on the lighting. When you test your swatch for mintiness, start by checking it in clear, bright light. If the shade looks properly sage, continue to test it out at various times of day and with different lights on to determine if it's the right color. Try the swatches against white and other background colors, as well, to be sure the background color isn't influencing your perception.
You may even want to check your swatches in several different rooms. Even though you might only be using sage green paint in one room, moving around the house will help you see the colors more accurately since each room's unique qualities can change how a swatch looks.
Also, make sure you've chosen the right shade of green for the comparison. You'll want a green that isn't darkened with black, lightened with white, or tinted with another shade. Luckily, some paint brands carry shades named "true green," which should be just right for your test.
Choosing the right shade of sage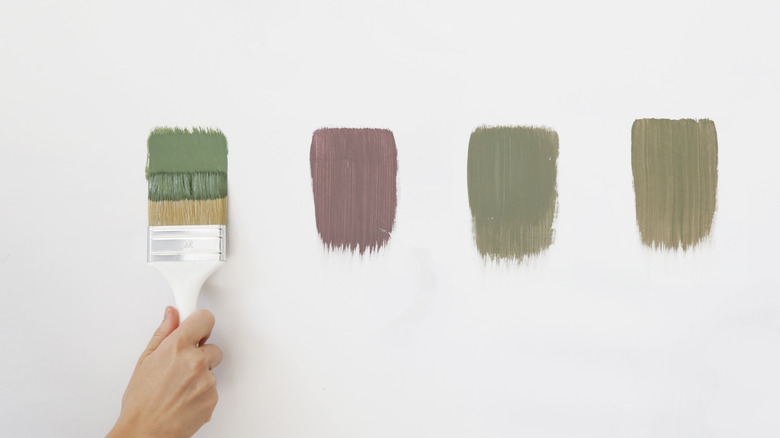 triocean/Shutterstock
Paint names can help you choose the proper color of sage, too. If the paint brand includes "sage" as part of the color's name, there's a good chance it won't look minty. That said, it's always wise to do this test first to make sure you're getting the shade you want.
Although sage is generally less bright and blue-toned than mint, this shade can range from light to dark and from cool to warm. Collect several swatches to explore the full range of possibilities for your home.
Also, don't forget to consider the paint finish as well. Different finishes can impact the way a color looks in your home. As a lighter shade, sage tends to look more vivid in a glossy finish and more neutral in a matte finish. So, once you've chosen the perfect sage, try out various finishes on test boards before you make your final choice.