HGTV's Christina Hall Brings Luxe Style To A Vinyl Record Collection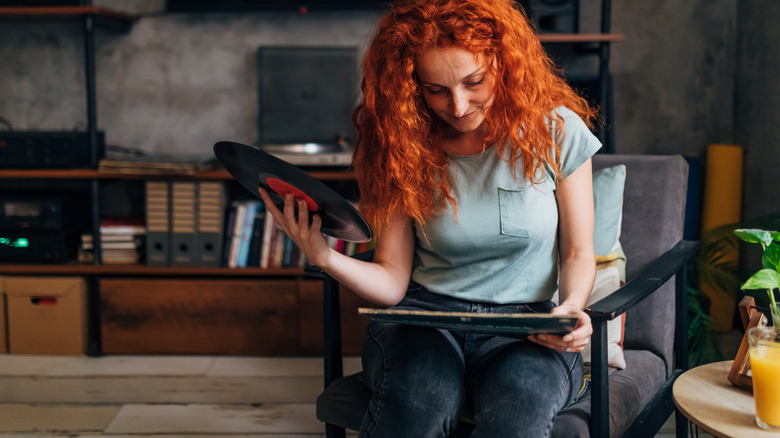 Kosamtu/Getty Images
Christina Hall is known for her stylish designs and renovation ideas, which she regularly shares on her many HGTV shows. One such idea is a stunning storage and display solution for a rather expansive collection of vinyl albums in square covers. The effect is both functional and visually beautiful.
In Season 1, Episode 6 of "Christina in the Country," Hall used a wall of deep custom shelves placed beside a remodeled fireplace to both store the owner's vinyl collection and create a stylish listening area in the corner of the living room. It's a space that feels both part of the greater room's design and also has its own cozy little listening nook with seating and accent lighting. Painted a stunning deep color, the shelves are built-in and intentionally designed to compactly and safely hold vinyl records with their 12-inch square dimensions. The albums themselves become signature pieces of art and personalize the space with the homeowners' love of music. 
Christina Hall's shelf of vinyl
Vinyl records, one of the largest and bulkiest formats for music recordings, may have had their heyday in the middle of the 20th century. However, a vintage vinyl revival has made them popular once again, both as a medium for listening and as a decor element, as vinyl albums can also be used as artwork. While collecting old or vintage vinyl is a popular hobby, even new artists are issuing vinyl editions of their music, leading to a wave of popularity in younger generations as well.
While many old record collections have been banished to cabinets or are collecting dust in an attic or basement, Christina Hall's custom shelving solution brings these unique items out in the open, giving the owner not only a chance to see what's there at a glance but also to highlight and display favorites. It also keeps the records free from scratches, debris, and warping that may befall the fragile format. Placing them on a shelf that's out of direct sunlight is a much better solution to storing them in an attic or basement where they could overheat or get wet. 
How to create a Hall-inspired storage solution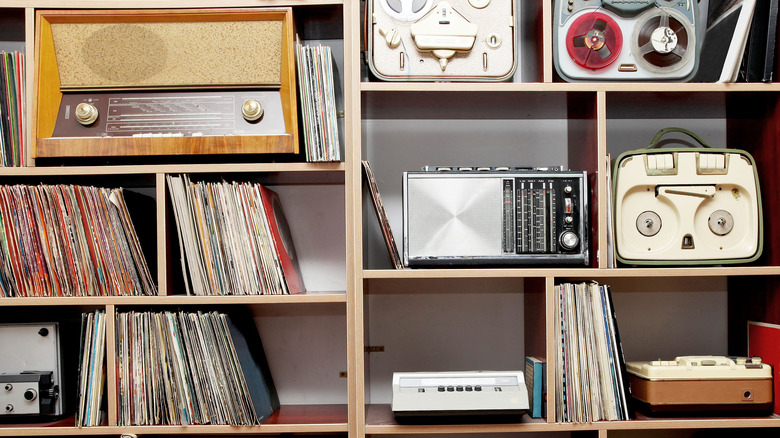 harmpeti/Shutterstock
If you have a prized collection of old or new favorite vinyl albums, there are many different organization and display options to make them both beautiful and easily accessible for use. However, Christina Hall's custom shelves may be one of the best solutions, as they protect your records and give them a dedicated storage area. It's best to store your records inside their cover or jacket, which will protect them from sunlight and other damaging elements.
If you are looking to create custom shelves like Hall did, they should be deep and tall enough to house album covers without extra room on the shelf. Therefore, they should be 12 inches by 12 inches. This way, you can fit as many as possible into the given space. By painting the shelves a dark and neutral color, you can allow the album covers and spines to maintain the visual focus, making them an important decor element. Because Hall added a cozy fur throw-covered bench and chair to the listening corner, it's easy to linger and listen to music for hours. You can also highlight the shelves by adding a light fixture above them, which will shine down on the space. And, placing your record player nearby will make listening to all your favorite music extra simple.