How To Use Vinyl Albums As Art So You Can Spotlight Your Favorite Record Covers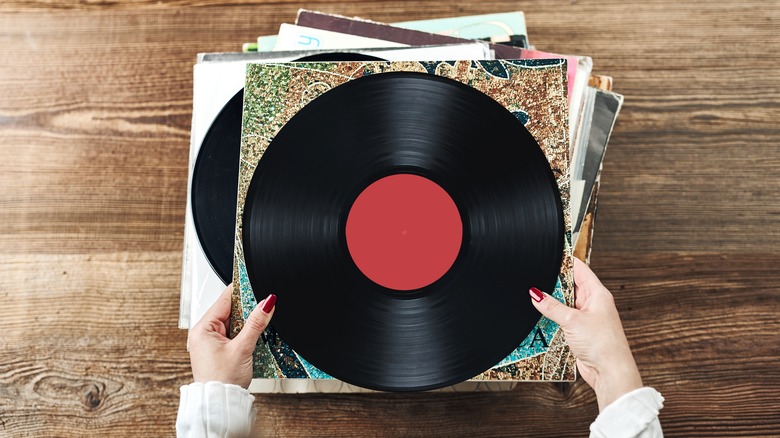 Przemek Klos/Shutterstock
We may receive a commission on purchases made from links.
Even with digital streaming, for many, the best way to enjoy their favorite music is through classic vinyl records. Whether you're a beginner or a seasoned vinyl collector, the records are both wonderful to listen to and gorgeous to look at. So much so that many people like to incorporate album art in their home decorations.
There are any number of ways to display vinyl album covers, but you'll want to take precautions when doing so to preserve both the record itself, as well as the art. New albums tend to be pricey, and older records are incredibly valuable and oftentimes sentimental — destroying them in the process of displaying them would certainly be a loss. Luckily, there is a multitude of options for safely showing off your favorite vinyl albums, including shelves — both specifically for vinyls or using ones you already have — specialty furniture, and even mounting them directly to your walls.
Display them on the wall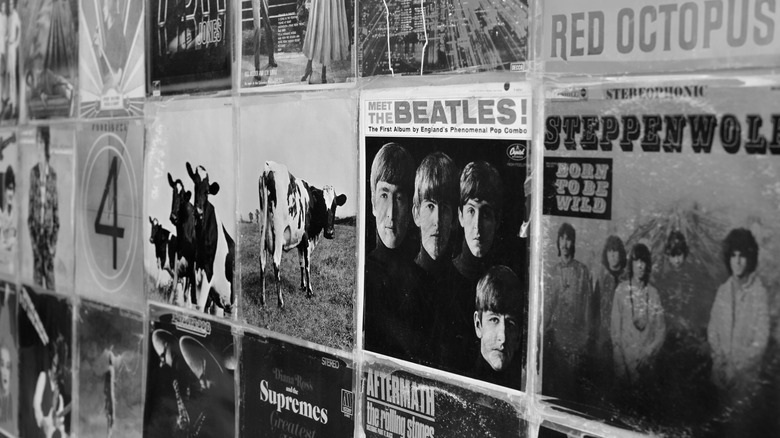 dimitris_k/Shutterstock
With how beautiful vinyl album cover art can be, it makes sense that you'd want to show them off individually. There are plenty of products designed specifically to showcase your records, including mounts and frames. This frame from Smashed Banana on Amazon, for example, is large enough to fit entire record covers, including double LPs, and costs $13.95. It comes in black, gold, or silver frame options, and can be purchased in quantities of one, two, or four.
If you opt to hang your records in frames, make sure to remove the vinyl disc inside so you can still use it. However, in this scenario, make sure you don't store them uncovered. Either keep them in the interior paper sleeve, or in a plastic sleeve, like these from Invest in Vinyl on Amazon.
The purpose of album covers, though, is to be able to help you quickly sort through which record you're looking for. While framing covers is a fantastic way to display them as art, it can be counterintuitive for some — especially if you have a larger collection. This is where record mounts are preferable — like this one from CollectorMount on Amazon for $9. The thin pieces of plastic hold your records — album, cover, and all — in the center and mount them on the wall, allowing you to switch them out with ease, as well as access them whenever you need to.
Tabletop display options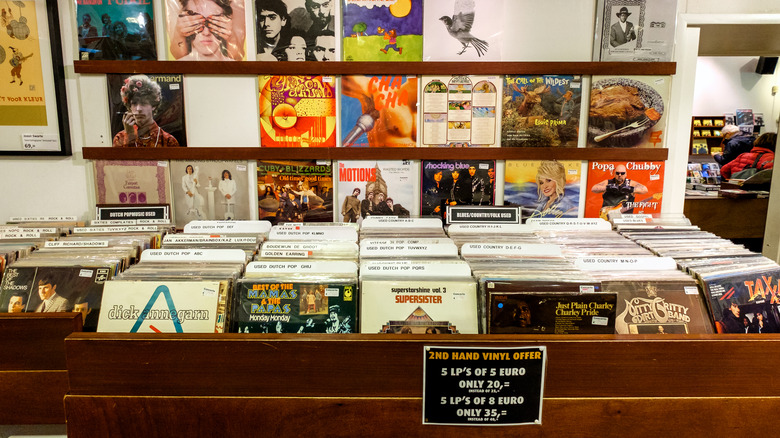 www.hollandfoto.net/Shutterstock
Your walls aren't the only place you can display your album covers — there are plenty of ways to naturally integrate them as visually striking additions to your home décor, whether you don't have any wall space, are a renter, or simply want to get a little more creative. Those with a lot of records can use them on shelves like you would a book for ease of storage, but something as simple as storing them facing the front can make all the difference.
This can be done in a number of ways. Consider storing your albums in a crate or a box, like you often see done at record stores. If you want a more clean, streamlined look that focuses on your actual records, consider one with a low and clear front like this one from AEEHFENG on Amazon. You can place this on a desk or stand and switch out which album you put at the front, showing off the beautiful cover art while still having practical access to all of your albums. If your collection is a bit more sparse, or you only want to display just one, there are smaller easel-style stands like this one from Tripar on Amazon. The previously mentioned wall mounts often have tabletop display options, too.