HGTV's Erin And Ben Napier Can't Agree On One Piece Of Living Room Furniture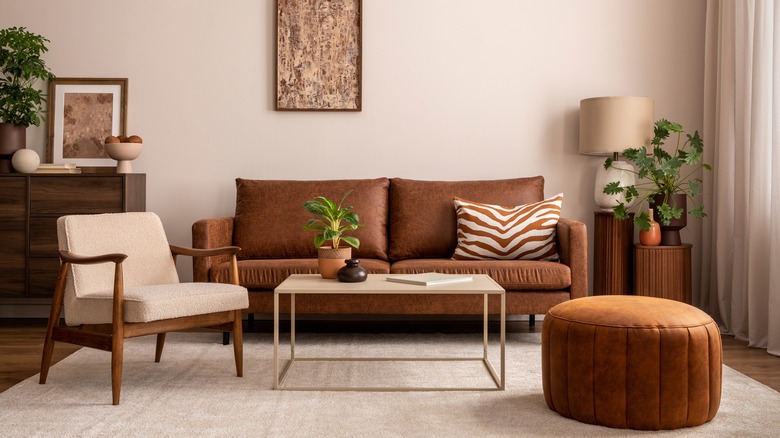 Followtheflow/Shutterstock
If you're planning on hosting for an upcoming holiday or get-together, odds are that seating is one of your top concerns. Having enough seating for your guests while you dine or entertain is crucial for designing the perfect entertaining space so that everyone feels comfortable and relaxed while visiting. But, if you're like Erin and Ben Napier, you might feel conflicted about the right seating options. While Erin loves the idea of a pouf for impromptu kid-friendly seating, Ben says on Today with Hoda & Jenna that this type isn't ideal for him. "I absolutely hate these ... I'm big and tall and heavy." However, Erin says to "Get yourself a cushy pouf," and she may be onto something. 
Using a pouf as a last-minute seating option has plenty of benefits, especially since they are very versatile when used in living rooms. Their styles and shades are easy to mesh with the other furniture in the room while also being able to act as an ottoman or coffee table until your guests arrive. Plus, if you have children, they'll probably find that the bean bag-like seat is a fun place to sit. 
What to know about pouf seating
Poufs pack a lot of benefits since they can be used and styled in a variety of ways. Poufs are filled with soft stuffing to make them feel cushiony and billowy, which is comfortable for most people. On the flip side, they do not come with any backing, so prolonged sitting can become uncomfortable due to the lack of back support. This is why they are deemed a more kid-friendly option, as they are also on the smaller side and low to the ground.
One major benefit to having a pouf is that it's a functional piece of furniture that doesn't consume lots of floor space. If you're not using your pouf as a makeshift small-sized ottoman or coffee table, these items are tiny enough to stash in a corner or along a wall to keep the living room open. Plus, they're extremely lightweight, so they're easy to grab and arrange in your seating setup for guests. Depending on how your living room is set up, consider arranging your pouf along a wall for guests to sit and rest their back on the firm surface.