Green Bedrooms Are Peaceful Retreats, But A Pro Recommends Against One Shade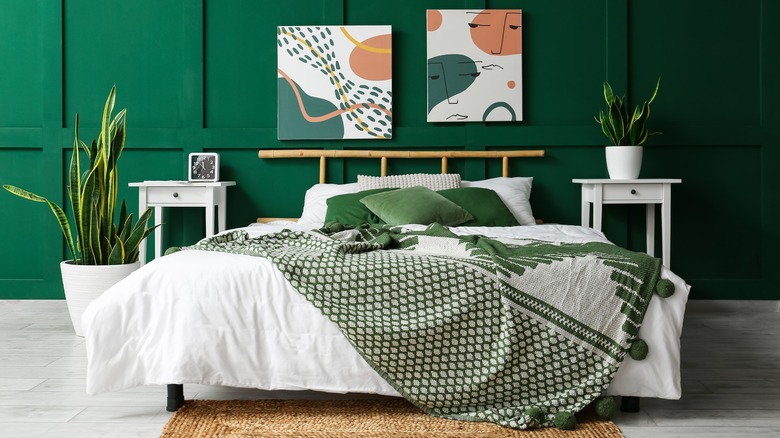 Pixel-Shot/Shutterstock
Your bedroom should be a relaxing sanctuary, a place where you can recharge. Soft linens and elegant houseplants can contribute to an overall feeling of peacefulness. However, the wall color is exceptionally important. According to the Sleep Foundation, a calming color like green elicits feelings of comfort and happiness when used in the bedroom. Yet, not all shades of green are ideal for a space designed for restfulness. While speaking to Apartment Therapy, Linda Hayslett of L.H Designs suggested avoiding bright greens when putting together your room of tranquility. 
Hayslett's tip stems from color psychology, which examines human relationships with color. A 2014 research article published in Sage Open suggests that some colors benefit our mood, while a 2020 study in Frontiers in Psychology found that certain hues can also influence our appetite. Colors like blue and green are popular choices for the bedroom because of the variation in shades. Green can be a soothing option reminiscent of a quiet forest or a stormy sea. It can also be energizing and motivating. Selecting a shade that's calming or serene is a great way to begin designing your perfect sanctuary.
Leave neon green and other high energy brights out of the bedroom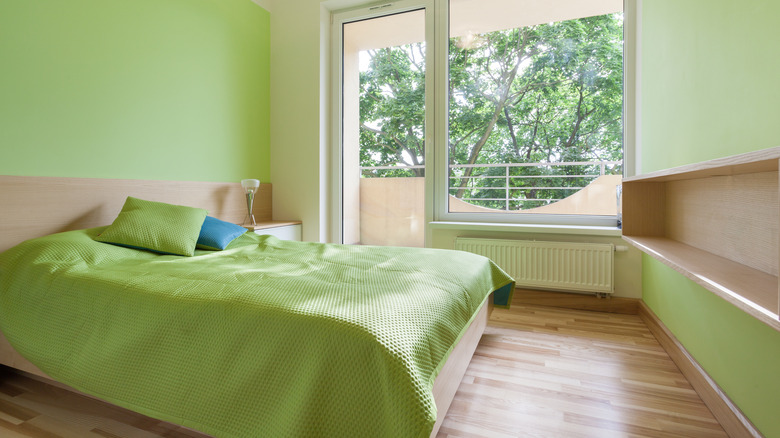 Ground Picture/Shutterstock
There are many shades of green that are perfect for a relaxing bedroom, but neon green and other bright shades like lime are not among them. While these bright hues certainly have appeal, they are more suited for high-energy spaces. When you enter your bedroom, your goal is to sleep, relax, and unwind. A vivid color like yellow-green can prevent you from feeling at ease, as it inspires movement and creativity. Bright greens are motivational and great for an office, but won't greet you like the calming walls of a sanctuary.
Instead, consider a shade like sage, known for its calming effect. Sage is a soft grayish-green that pairs well with accent colors and most neutrals. For a more luxurious feeling, go with emerald or teal. These hues are great for creating a bedroom that feels inviting and sophisticated. If you prefer a yellow-green, stick to more muted, warm yellow-leaning colors. Shades like Sherwin Williams' Celery toe the line between calming and energizing. Sunlight will bring out its yellow while nighttime will showcase the green.
When creating your dream bedroom, think about how you want to feel when you're in it. If you want tranquility and serenity, skip the lime green. Neon is great for an '80s party, but like an '80s party, you might be up all night. Opt for sage, emerald, or seafoam to get the most out of this calming color.