Why Keeping A Hair Dryer Nearby When Painting Will Save You From Tape Messes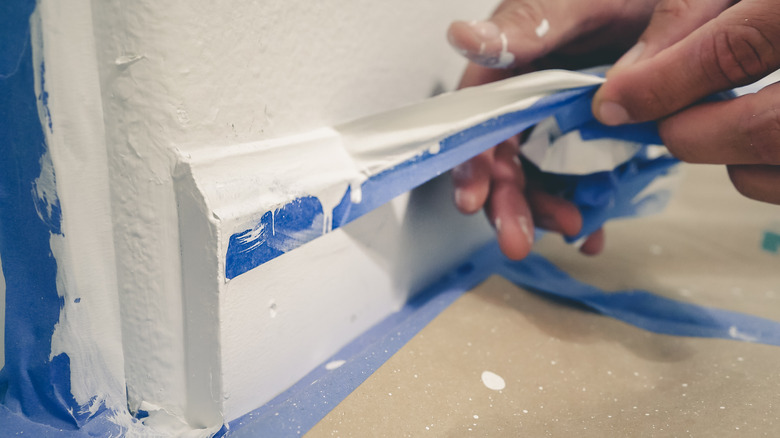 RightFramePhotoVideo/Shutterstock
Painting your walls or a piece of furniture might sound like a fun arts and crafts project, but it is far from your elementary school art classes where all you needed was an easel and a big imagination. Painting is hard work and calls for the right tools, and one of the most important things you'll need is painter's tape. However, peeling off painter's tape once you're done with your paint job can be a hassle, as you could accidentally remove some of the wall plaster or paint underneath. That's why you may want to keep a hair dryer nearby.
When you are coating your walls or a piece of furniture with paint, there will most likely be some drips and globs, no matter how hard you try to avoid them. Painter's tape allows you to avoid this and prevents the paint from bleeding onto your floors, electrical outlets, or on places you're going to cover with another color later. Luckily, there is a DIY paint hack for you to try that can save you a ton of stress from tape messes and help you complete your paint job in no time. All you'll need to do is heat the tape before peeling it off, which will reduce its stickiness. 
Turn the heat up on the tape to loosen the adhesive
The purpose of using painter's tape is to keep paint off of places you don't want it to cover. In order to keep the tape from sticking too hard to the surface and potentially wrecking your work, all you need to do is whip out your hair dryer. Simply blow some heat on the tape to encourage it to loosen up before you peel it off of the wall or your piece of furniture.
DIY enthusiast @SalvagedInspirations on YouTube demonstrated how to use this hack to easily strip tape from your painting surface. She simply uses her heat gun to loosen the adhesive on her painter's tape, which allows her work to stay clean and undisturbed without destroying her piece of furniture. While you could use a heat gun, if you don't have one available, a hair dryer will also work just as well. Further, this trick may be extra beneficial for those who keep their painter's tape on for a little too long (such as overnight), as it will loosen the extra sticky adhesive and allow it to easily peel off.