Here's What Mattress Brands These Popular Hotels Use & Where You Can Buy Them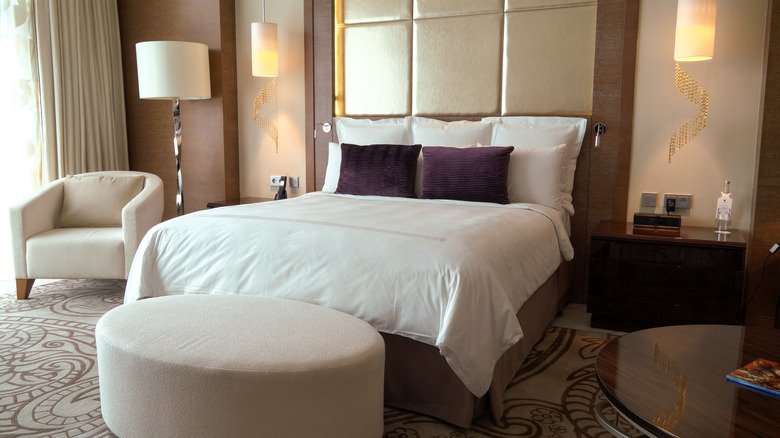 DedOK Studio/Shutterstock
There is nothing like checking into your favorite hotel after a long day of traveling and melting into the soft embrace of your new bed. It feels like magic (of the plushest kind) as you lay there sinking into deep contemplation: "What mattress brand is this, and how can I take this comfort home?" Let's sleep on this curiosity no further. You can uncover the secrets behind dreamy hotel mattresses like The Marriot, The Ritz-Carlton, and the Hilton — and learn where to purchase one for your home.
Let's begin with one of the most renowned hotels, The Marriott. Originating from a modest nine-stool root beer stand in 1927, The Marriott has evolved over a century to offer guests a timeless sleep experience. Undeniably, their mattresses are as refreshing as the root beer they started the brand with. Both Jamison Bedding and Simmons Beautyrest supply the official bed of the Marriott. Used worldwide, this soy-based foam mattress was engineered by NASA in 1966 to keep its astronauts comfortable while on their way at hyper-speed. This iconic comfort is destined to give you an unparalleled sleep experience that truly feels out of this world. 
If this is what you're looking for, Shop Marriot is the official online store that serves as home to the heavenly innerspring mattress. It is available in five sizes: California King, King, Queen, Full, and Twin, with a 10-year manufacturer warranty.
A mattress for royalty: The Ritz-Carlton
Leon Neal/Getty Images
If you're looking for an opulent night's rest, you can't go wrong with The Ritz-Carlton, a name of noble sophistication in the hospitality realm. Established in 1983, with historical ties to iconic Ritz hotels in Paris and London, it has cemented its reputation for kingly service and luxury.
One of the core components of the brand's acclaimed guest experience is, without a doubt, its commitment to a restful night's sleep. It's no surprise that they've collaborated with a brand like Stearns & Foster for their mattresses. This renowned bedding company shares Ritz-Carlton's dedication to unparalleled quality.
Guests at The Ritz-Carlton can attest to the enchanting sleep experience these meticulously crafted mattresses offer, which blends cutting-edge sleep technology with age-old craftsmanship. Known for their hand-tufted finishes, individually wrapped coils, and breathable materials, these mattresses are a testament to the brand's 175-year commitment to guest comfort.
If you love the allure of The Ritz-Carlton sleep, Ritz-Carlton Shops allows this luxury to be replicated at home. The brand offers mattresses in sizes from California King to Twin, with the assurance of a 10-year manufacturer warranty.
Hilton Hotels and the Serenity Bed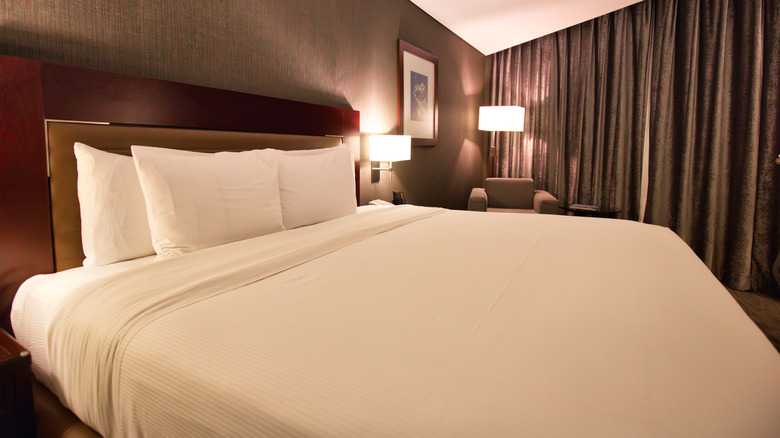 eskystudio/Shutterstock
But before you spend an arm and a leg for something as lavish as a Ritz-Carlton mattress, consider a more affordable option — like the Hilton's signature mattress. Hilton has pioneered global hospitality since its inception by Conrad Hilton in 1919. Over a century later, the brand remains at the forefront of world-class comfort and service.
Like Ritz-Carlton, a cornerstone of Hilton's praised guest experience is their dedication to a rejuvenating night's sleep. The Hilton Serenity Bed fulfills this commitment in collaboration with Serta. With its unique extra coil support, no edge breakdown, and proper spinal alignment support, a plush top mattress envelops you into a deep sleep while improving your body's circulation. This mattress is crafted to offer support and alleviate physical stress.
Look no further than The Hilton to Home online store to see if this iconic bed is right for you. It's available in various sizes, from the expansive King to the space-saving Twin. Each mattress also comes with the assurance of durability, backed by a 10-year manufacturer warranty.
Whether you're looking to recreate a recent hotel stay experience or simply in the market for a new mattress, these popular hotel chains can lead you to some of the most comfortable beds available. So, the next time you wake up from a particularly magical hotel sleep, know that taking that experience home might be a few clicks away.