How To Take Subway Backsplash Tiling And Make It Your Own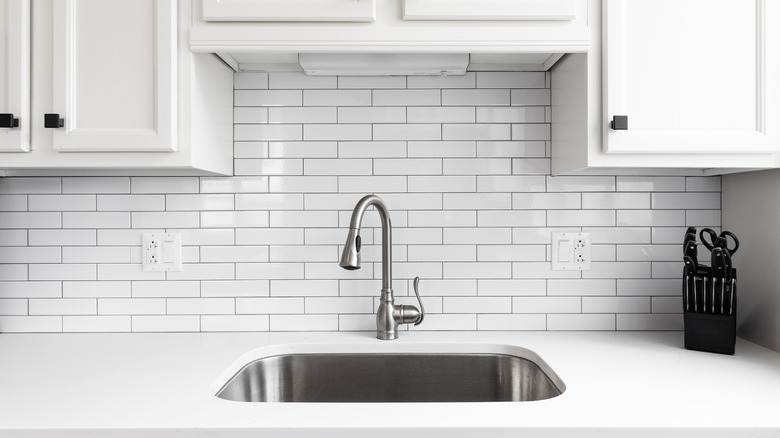 Joseph Hendrickson/Shutterstock
Subway tile is a general term for tiles that measure 3 inches by 6 inches, with an offset pattern of 50% when tiled. Named after the tiles invented for New York City's first subway station, the style of tile is a perennial favorite for its simplicity and versatility. In the most basic form, subway tiles are white, providing a clean and timeless look that serves as a classic backdrop for kitchen or bathroom designs.
However, some may find subway tile to be too simplistic, bordering on boring. After all, with the variety of interesting shapes and patterns many contemporary tiles offer, why go with a basic rectangle? Well, it's that basic style that holds the potential for subway tile to become a feature of a room. While the standard three-by-six white tile is the most common version of subway tile, there are other options in terms of color and size and even shape, as subway tile today can even be square. As for the pattern, the 50% offset pattern is still widely seen but is no longer the only way to go.
Using these variations, you can transform the retro subway tile into a stylish, modern detail. Plus, the simple shape is ideal for getting creative with how you use them as a backsplash.
Opt for unique layouts
The standard subway tile layout is called an offset, a design in which the edge of a tile is centered at the midpoint of the tiles below and above it. Resembling stacked bricks, this design is the go-to, but it's not the only option. Herringbone, as featured in the image above, is another one that's timeless but has a little bit more character. Crosshatch, basketweave, and chevron are other options for interesting and more unique subway tile layouts.
Play around with color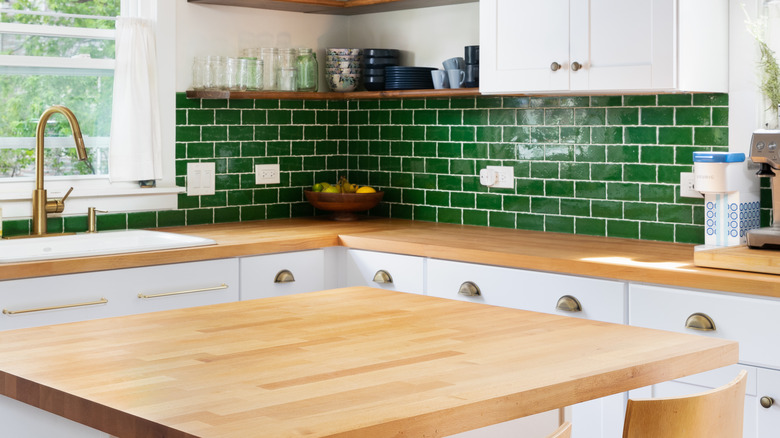 Joseph Hendrickson/Shutterstock
Basic subway tile is a crisp white. However, there has been a trend in recent years of people moving away from all-white kitchens and bathrooms, leading to a rise in colorful tiles. If you love the clean lines of subway tile but don't want a plain-white backsplash, you have a full shade range available. From "colored" neutrals like green and blue to more vibrant oranges and pinks, there's a colorful subway tile option that will fulfill your design ideas. These are a great way to add a small pop of color or maximize the room's style.
Move away from standard size
As subway tile has become more popular, the classic style has gotten refreshed. There are subway tiles that are a little larger, some smaller, and some more narrow, such as the ones in the above photo. If the standard subway tile looks too busy, larger tiles may look better for a backsplash because of the wider surface area and fewer grout lines. Narrow tiles look more modern, helping to create long lines that highlight the height and width of the room.
Extend it to the ceiling
Backsplash tile doesn't have to stop at the base of upper cabinets or the bottom of bathroom mirrors. If there's an opportunity, consider running the tile up to the ceiling. This creates an eye-catching feature that looks grand and can draw the eyes upward, making the room look taller. Do it as a small detail where there's a break in cabinets, such as above the sink or stove. Or do it as a full wall feature with no upper cabinets and open shelving instead.
Use colored grout
Standard grout is a neutral color, typically white, black, or gray. Using colored grout with subway tile, however, would be an unexpected detail in a kitchen or bathroom that's sure to make the room unique. Paired with white subway tiles, it's a subtle pop of color that's fun without being overwhelming. Colored grout can be paired with colored tiles as well, though. Matching the grout and tile color can blur the edges, creating a slab-like look. Or you can create a bold contrast by using two different colors for the grout and the tile.
Match it with cabinets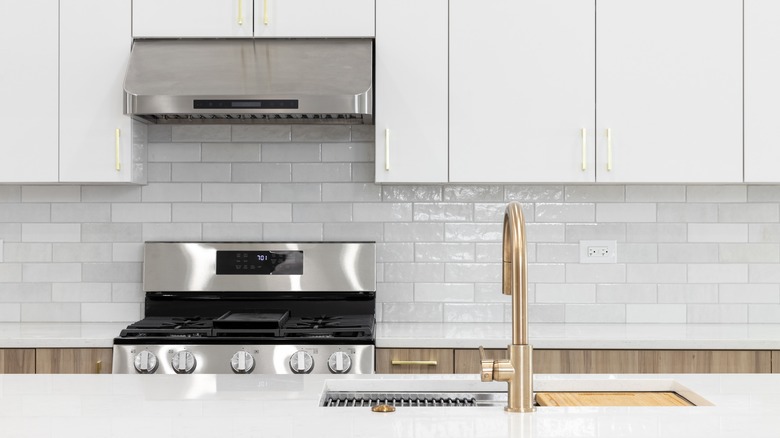 Joseph Hendrickson/Shutterstock
Monochromatic designs are simultaneously bold and timeless. A monochromatic color scheme uses one color in multiple tones. And there's a contemporary trend called color drenching, where all the features of a room are the exact same color. Both monochromatic and color-drenching a kitchen or bathroom can create a calming and enveloping feeling that aids relaxation. Do this by matching the color of the tiles on the walls to the cabinets to make the statement.
Create stripes
The layout of tiles isn't the only way to create patterns. You can lay subways tiles out in an offset or stacked pattern, but use different colors of tiles to create stripes. For example, alternate rows of white and blue tiles for wide stripes. You can create one horizontal stripe that circles around the kitchen to create an accent. Or use a row or rows of different-sized tiles with standard subway tiles. Using thin tile along with the standard tile can create a pinstripe effect.
Try metallic
Along with different-colored subway tiles, there are also metallic options. Instead of ceramic, these tiles are often made of metal, such as stainless steel, or mirrored glass, which gives them that shiny metallic finish. Create a sleek, ultra-modern look with silvery metallic tiles, add a bit of glamor with gold, or a little charm with bronze. Metallic tiles are great for small accents, but for designs that like to push the design limits, they're ideal for making a bold statement.
Bevel it
Standard subway tiles are flat until the edges, creating a smooth surface if you run your fingers over them. Beveled tiles, on the other hand, have slightly sloped edges, making the center a little higher. This shape adds more depth than the standard subway tile, infusing a little more texture and visual interest into a design. While these tiles can be laid out in unique ways, stacked and offset are often best so as not to make the design too busy or feel too cluttered.
Consider glossy glass
Most ceramic tiles have a glossy finish, but switching to a glass subway tile can boost that shine. With a little more reflective quality, these tiles can appear to be high-shine, especially when caught in the sunlight. The reflective finish also helps light bounce around the room, which can help brighten smaller or darker spaces. These tiles also have a little more depth to them rather than the flat appearance of traditional ceramic tiles.
Go luxurious with marble
Creating an elegant and timeless design, marble subway tiles can easily fit into any kitchen or bathroom design. The veining from the marble will add subtle color and texture. Paired with herringbone and basketweave layouts, marble subway tile can look charming and sophisticated, while stacked layouts bring a more modern style. For a slab backsplash effect, try matching the tile with the same color grout.
Pair it with different shapes
When using subway tile, you don't have to use that style of tile exclusively. Pairing subway tile with different shapes can create exciting designs for a backsplash. Consider creating an accent like a stripe of hexagons running through the kitchen, a picture frame above the stove, or an entire wall of contrasting tiles that serves as an unexpected accent. Using a combination of tile shapes and colors is one of the best ways to get creative with your kitchen or bathroom design.