Fake A Gorgeous Built-In Cabinet With IKEA HAVSTA Pieces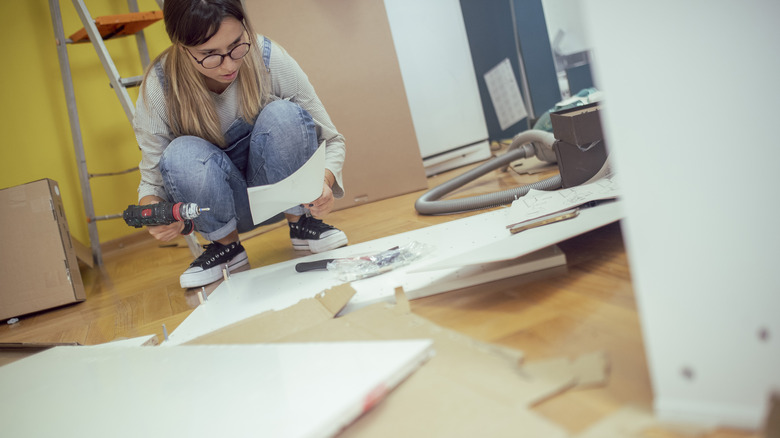 Lukatdb/Getty Images
Looking for the look of luxurious custom built-in cabinets without the hefty price tag? A great hack using the HAVSTA system of cabinets and shelves available from IKEA may be the perfect solution for getting the look and feel of custom built-ins without carpentry and the expense of costly wooden cabinets. The HAVSTA system, which ranges in the $200-500 per piece range depending on size, is one of IKEA's more deluxe shelving units. They are often proposed as a more permanent storage solution to IKEA's famously inexpensive BILLY bookshelf system, used for hacks creating everything from wardrobes to home bars.
While the BILLY's wood particle board construction is a great option for low budgets, the HAVSTA's are constructed out of solid wood, with more expensive-looking details like brushed silver knobs and bottom moldings. While they are a slightly more elevated IKEA cabinetry option, they are still a bargain compared to having custom units built, allowing you to create an entire wall and alcove system for around $1,000 by merely adding some additional trim to achieve the fully built-in look.
Using the HAVSTA to create custom cabinetry
The HAVSTA line is perfect for creating built-ins and custom nooks, including stylish coffee bars, dining banquettes, entertainment consoles, and fireplace nooks. Because the cabinets and shelving units are narrow, they are a great option for getting a lot of impact without eating up a lot of space. The narrow cabinet and bookshelves, which range from 13-18 inches deep, are ideal for organizing books, housing kitchenware, or showing off decor.
Once you have measured your space, designed your configuration for units, and installed them, you can tie everything together by sanding and painting the units as desired to match your interior. Because they are genuine wood, the HAVSTA units are much easier to paint than many other IKEA systems. You can also add decorative picture molding along the sides to give a more built-in look by adding trim and molding as needed along the top and bottom.