HGTV's Jeremiah Brent Shares 3 Essentials For A Cozy Guest Room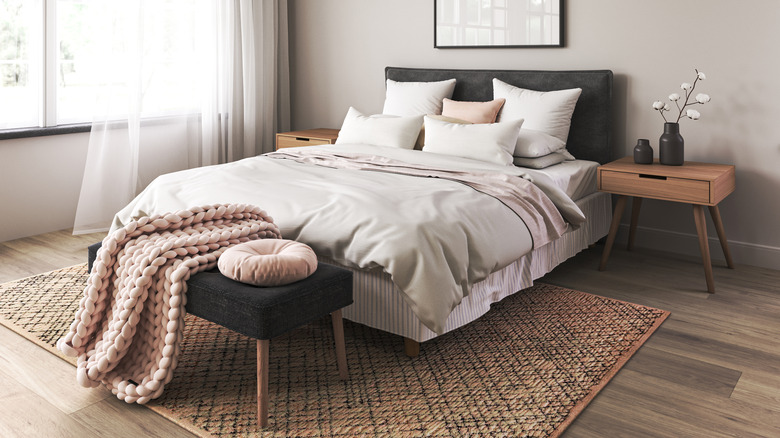 Victoriia Kovalchuk/Getty Images
If you have an extra bedroom in your house or apartment, transforming it into a space for guests is a great way to make them feel more at home when they're staying over. Whether they're simply crashing after a night out on the town or enjoying an extended trip to your city, a tranquil, visitor-ready guest room is a must to allow them to fully recharge after a long day. The problem, however, is finding a way to decorate that toes the line between cozy and functional. Thankfully, HGTV's Jeremiah Brent shared some tips in a recent TikTok video that can help you find the perfect balance.
Brent is known for his full-service design firm, lifestyle brand, and shows on HGTV where he works alongside his husband, Nate Berkus. But his experience with creating the perfect guest room doesn't end there. The pair also briefly listed their Montauk home on Airbnb, pulling out all the stops to ensure that their temporary tenants felt at home in the space.
Focus on linens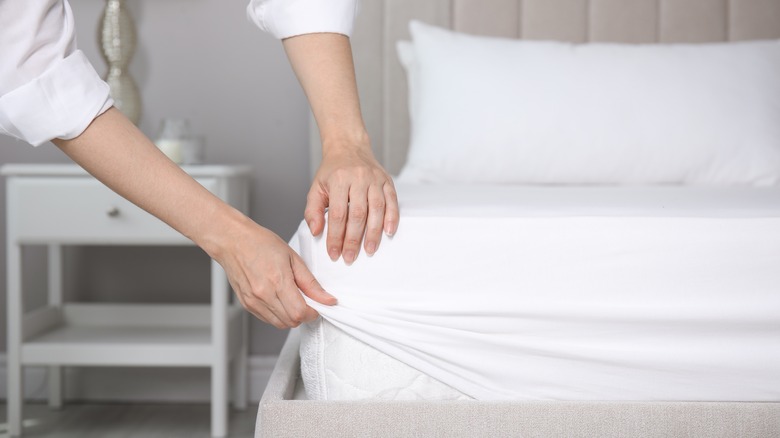 New Africa/Shutterstock
Anyone who travels frequently knows that it can often be quite difficult to fall asleep the first night you're on a trip, regardless of how exhausted your journey might have left you. To help reduce the chances of this happening for your guests, Jeremiah Brent recommends you put some thought into your bedding choices. "I love crisp, white sheets," he said in his TikTok. "There's nothing better than falling into a bed of the perfect linen."
When you're buying a sheet set, try not to skimp out on quality simply because the guest bedroom won't be used every day. For that luxurious, hotel-like feel, look for something that feels crisp and cool to the touch, like Egyptian cotton, in a bright white shade. If you don't have the budget for something ultra-luxe, however, consider opting for a different material that's guaranteed to be smooth at many price points, like microfiber. And, make sure to use a quality laundry detergent to welcome guests with a fresh and clean scent.
Offer phone chargers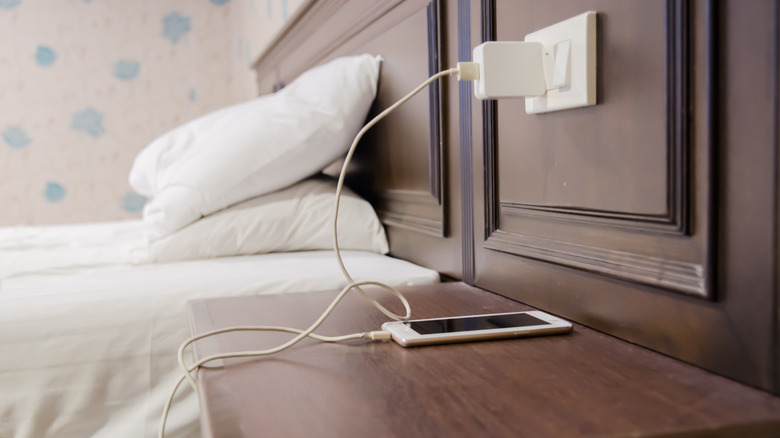 DreamStockP/Shutterstock
Travel can get chaotic, especially if your guests are on an especially long or last-minute trip. When packing at home or traveling from place to place, it's easy to forget to bring the essentials along. That's why Jeremiah Brent recommends leaving out a phone charger to ensure your guests have everything they need. "How many times do you leave town and you reach for it and realize you forgot yours?" he said in his TikTok. "When you're hosting, having a couple different phone chargers around goes a long way."
Stock up the bed tables with phone chargers that are compatible with both Apple and non-Apple products to ensure everyone is able to wake up with a full battery. You can also take this step a bit further and include some other essentials around the bedroom and bathroom as well. Makeup remover, shower soaps, and lotion can be helpful, especially if your guests had to fly with tiny, carry-on-sized bottles. Take a look at your own day-to-day routine to get a better idea of what others might need but may have forgotten. 
Leave behind extra hangers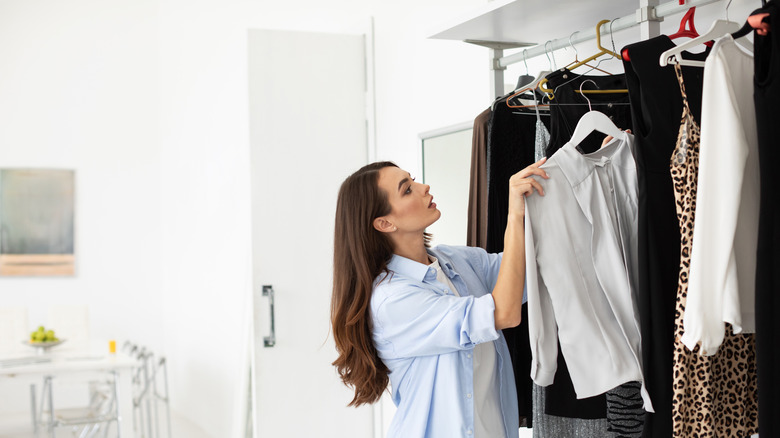 MG Best For You/Shutterstock
Everyone has different courses of action when they travel. Some people basically live out of their suitcase for the duration of the trip, choosing to keep everything contained and easy to pack. Others, however, lay out their clothes for the following days, and hang up pieces that easily crease or wrinkle. If you have any guests that fit into the latter category, Brent recommends leaving out more hangers than you would expect, just in case. In his TikTok, he mentions that many of the places he has stayed at in the past didn't have enough, a fact that's unsurprising when you think about the practically barren closet in a typical hotel room.
Thankfully, this tip doesn't require much additional spending to pull off. One pack of hangers is usually more than enough, but if you want to add some extra flair, you can even incorporate a couple of hangers with clips for skirts, strapless tops, and slacks. Either way, your guests are sure to feel much more comfortable and welcome when the space is fully decked out according to their potential needs.