How To Create An Adorable Halloween Skeleton Candle On A Budget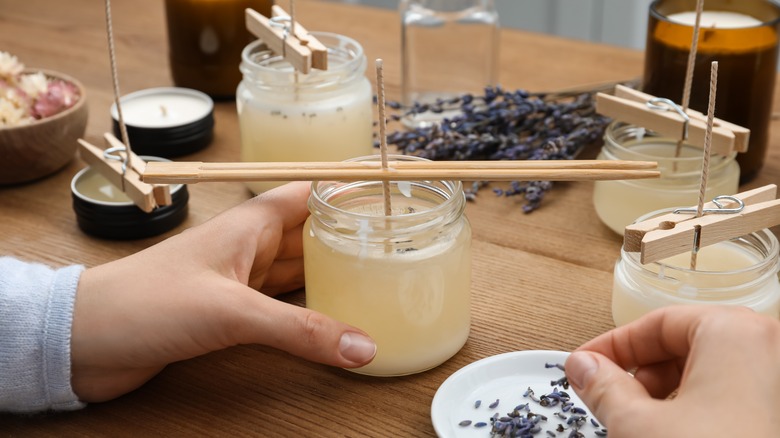 New Africa/Shutterstock
Autumn and Halloween décor always hit retail stores long before the season begins, making folks excited for the upcoming cooler months. Whether you buy embellishments early or wait until a couple of weeks before the season starts, we know that seasonal décor is expensive. Instead of purchasing pricey items, get in touch with your DIY side and recreate the Halloween décor you've seen at stores. For example, Walmart has a spooky bathing skeleton candle, where a skeleton looks like it's taking a bath in a cauldron; it retails for $28.96. Even though candles range in price, $29 for a candle is a bit pricey. However, TikTok user Matilda (@ky_mom_79) recreated the skeleton candle with items she purchased at Dollar Tree for about $5.
Matilda bought a black bowl, a toy skeleton with eyes that light up green, and three candles from Dollar Tree to recreate Walmart's bathing skeleton candle. She bought unscented white candles, but you can always purchase scented ones with white wax. (The price could be higher depending on where you buy your candles.) She also used a hot glue gun, scissors, a small piece of cloth, and a pot of hot water. The DIY Halloween crafts project is inexpensive, beginner-friendly, and excellent to do with your kids or friends.
Step-by-step tutorial
In TikTok user Matilda's video, she shows herself setting up everything she needs to make her Halloween bathing skeleton candle. Start by boiling water in a medium-sized pot and place your candles inside to melt them. While the water is boiling, use scissors to cut off the skeleton's lower half in the middle of his spine, below his ribs. Then, hot glue the skeleton's upper half inside the bowl. You want his back glued to the inside wall of the bowl with his head poking out the top. Also, glue his arms to the top of the bowl so that they're slightly hanging over the rim. Next, cut a piece of cloth and wrap it around the skeleton's head to look like he's wearing a towel.
Once you situate the skeleton and the wax has started melting, pull out the wicks from the candle jars and glue them inside the bowl. You can use the skeleton's hands as a resting place to hold the wicks in place. Put on some oven mitts and pour the melted wax into the bowl. The wax from the three candles should fit perfectly. TikToker Matilda also cut off the skeleton's legs and placed them across from its torso so that its feet are poking out, giving it a realistic look. Finally, let the wax set overnight. The following day, cut the wicks short and display the skeleton candle on your kitchen table or in your living room.