The Genius Way To Repurpose A Six-Pack Sleeve In Your Refrigerator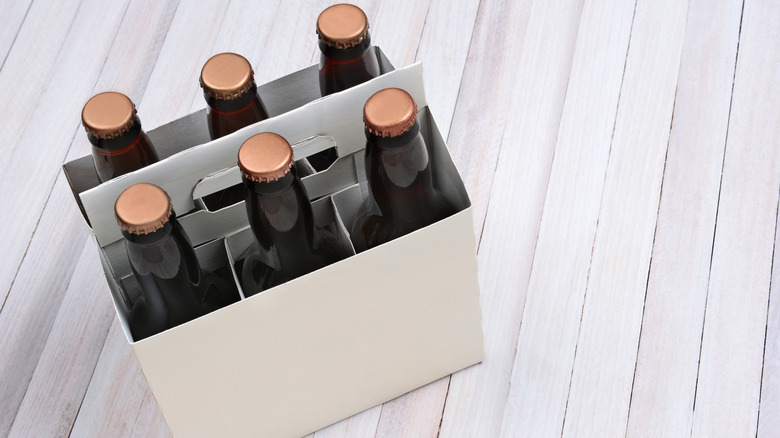 Steve Cukrov/Shutterstock
Whether you prefer craft beer or you're more of a root beer fan, if you buy beverages in packs of six, you likely have a cardboard drink carrier for those six packs lying around. (If you don't, you can easily get one next time you buy beverages – or just grab one from your recycling bin.) Though most people throw away their cardboard drink carriers, hopefully to be recycled, they can be used for several other purposes in the kitchen. Instead of discarding your cardboard drink carrier the next time you finish the last beverage, consider repurposing it and taking advantage of the six designated compartments by using it as a refrigerator organizer instead.
If you have a lot of condiment bottles hanging out in your refrigerator, it can be easy to lose track of them. With their tall, awkward height, they aren't always the easiest to store as they can easily tip over and roll, making a disorganized mess of your refrigerator. Using a six-pack cardboard drink holder to store your condiments can help keep your refrigerator organized, and can keep you from having to hunt for each condiment separately the next time you're making a sandwich or roasting hot dogs.
A repurposed condiment caddy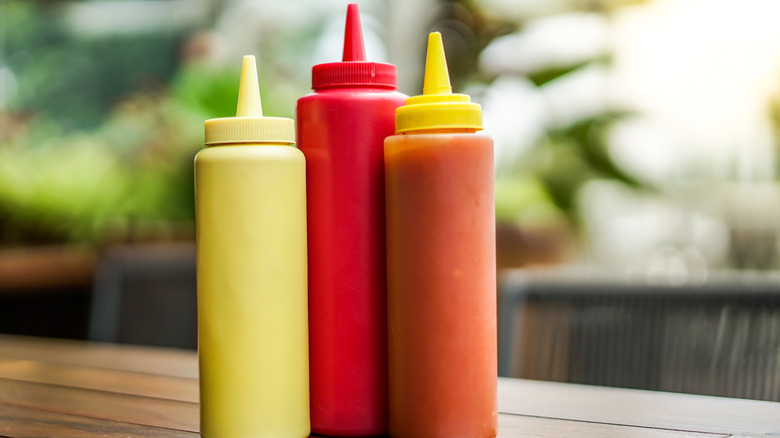 Kadek Bonit Permadi/Getty Images
In addition to being used as a refrigerator organizer, a handled six-pack drink carrier can be used as a convenient caddy for your condiments when entertaining at your next backyard BBQ. The handles of the carrier make it easy to quickly and easily grab from the refrigerator and transport to the prep area. Instead of having to make multiple trips to the picnic table from the refrigerator, and missing out on valued meal time with your family and friends, save time by bringing out up to six condiments at once. On top of being able to easily transport ketchup, mustard, and barbeque sauce, they can easily be used to carry out and hold silverware and napkins for your guests to grab as needed. This makes it possible to transport all that you need, while still being able to open and close the door with your free hand. 
The best part is that whenever you find yourself not needing to use it, you don't need to store it – simply recycle it and get a new one, or fold it up and tuck it somewhere discreet if you want to make sure you always have one on hand.