TikTok's Beautiful DIY Tree Makes The Perfect Budget Autumn Décor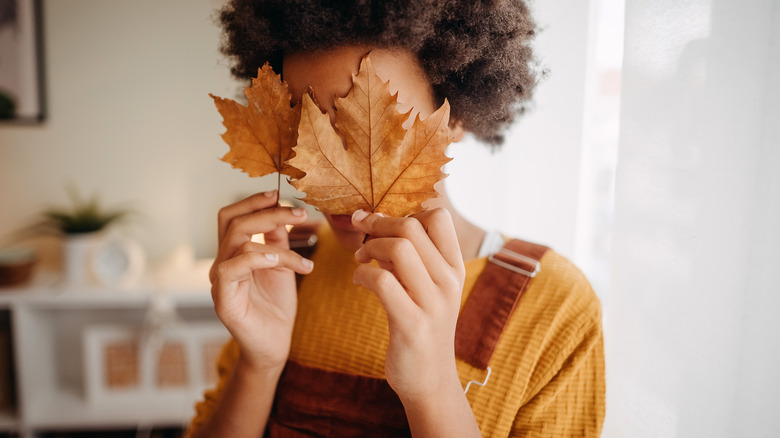 Enigma_images/Getty Images
While a well-decorated Christmas tree may be the centerpiece of your holiday décor, there's no rule that says trees are just for the winter months. TikTok user @macy.blackwell recently showed off her easy DIY project for a leafy autumn foliage tree that is very easy to put together and makes a perfect large accent piece and addition to your Halloween decorations.
Using a plastic pot, a tomato cage, twinkle lights, and a length of fall garland, Blackwell is able to shape the perfect tree for fall, overflowing with red, orange, and gold leaves lit by the magic of fairy lights. The project makes a perfect accompaniment to outdoor pumpkins on your porch. It also looks great placed near a cozy indoor mantelpiece. Even better, it's a very budget-friendly DIY. You may already have some of the elements at home as you close up your garden and outdoor plants for the year.
Making a DIY autumn foliage tree
Begin with a tomato plant cage. You can use rubber bands to connect the top ends together to achieve a cone shape that resembles evergreen trees. Place the base of the cage in a large planter. Starting at the top, wrap your fall garland around the cage until it is fully covered. String the twinkle lights throughout, or choose black or orange colored lights to add some Halloween fun, as well as bulbs shaped like tiny skulls, pumpkins, or bats.
While one is stunning, you can make a pair for your porch to greet guests with not that much more effort and expense. You can vary the garland to match your seasonal aesthetic, including other elements like twigs, vines, and other decorative accents to customize your tree. You can also add floral picks with fall-colored blooms and greenery to make your tree fuller and lusher. For a more modern and minimalistic look, choose a garland in a more neutral shade like brown, taupe, or terracotta.