This TikTok DIY Shows How To Transform A Pool Noodle Into The Perfect Pumpkin Decoration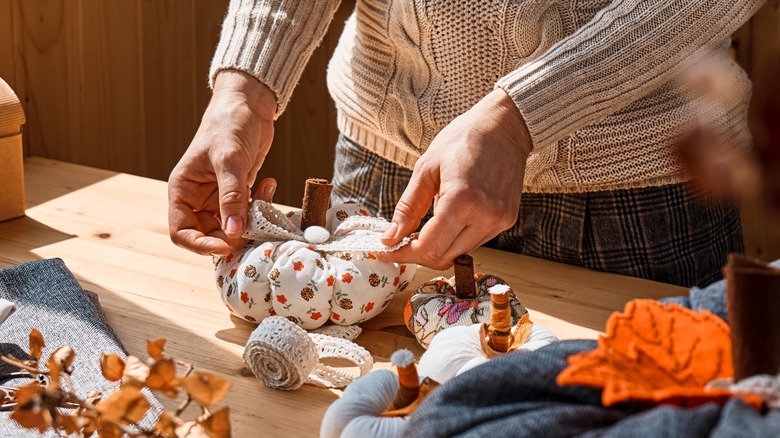 Caterina Trimarchi/Shutterstock
While decorative artificial pumpkins fill the stores as soon as summer is ending, they can often be pricey, particularly if you find your fall decor needs require more than one and in various sizes. An ingenious TikTok hack may be the solution to making an array of perfect fabric pumpkins in varied sizes. Even better, they are constructed from something that is likely already in your home or backyard — a pool noodle!
The TikTok post shows how to create cool and modern-looking fabric pumpkins using only the versatile foam cylinders, some colorful material, and wood pieces. Not only is making these pumpkins an easy and budget-friendly project, but you can also completely customize the fabric and accents to fit your fall decor perfectly. Because they are durable and you can change the fabric when you want something new, they are also great for pulling out every year during the fall season.
Making pool noodle fabric pumpkins
Cut down your pool noodle to the desired height of your artificial pumpkin. For narrow and smaller pumpkins, you can use one length of foam, but you can also hot glue larger groupings of equal-length pieces to create more rotund pumpkins. Use longer lengths for taller pumpkins, and shorter for minis. Tuck the fabric into the end of the pull noodle or tie it off on top. Glue the wooden piece in the center top to form the stem, then add twine, raffia, or ribbon for decoration.
You can complete this hack with your favorite fall fabric that fits your fall decorating aesthetic. TikTok user @averagebutinspired uses a cozy orange plaid, but you can use burlap, white gauze, flannel, or velvet for a more luxurious touch. These inexpensive DIY pumpkins are perfect for your mantle or Thanksgiving table centerpiece in a grouping of various sizes. Small ones also make perfect place card holders for autumnal dinner gatherings.