Selena Gomez's 2020 Kitchen Is Proof Going Bold Pays Off
Featureflash Photo Agency/Shutterstock
We may receive a commission on purchases made from links.
With Selena Gomez having her very own cooking show on HBO Max called "Selena + Chef," it's no wonder her kitchen — in her former Studio City, California home — is sparking conversations and grabbing our attention. The actress, singer, and business owner sold her home in 2021, but before doing so, she created an open-concept space that kept a modern edge yet also portrayed farmhouse nostalgia. The contemporary rustic look is riding the top of the trend charts, from her stainless steel appliances, white finishes, raw wood island, and exposed brick.
Gomez translated vintage charm throughout the kitchen with the focal point of her lime-washed brick archway overlooking her six-burner gas range stovetop. While the exposed brick and gas range gives us that farmhouse essence, the chic white coloration and stainless steel give that present-day twinge. Gomez doesn't let an all-white kitchen become stale. Instead, she added pops of color and her own personal touches to pull the room together, giving dimension while still maintaining a sleek and elegant composition.
Selena Gomez's 2020 kitchen
In her former California home, Gomez embarked on a journey that showcased her love for cooking, and fans couldn't help but notice her chic kitchen design choices. With red brick flooring and white cabinetry featuring stone countertops, a modern farmhouse tone is engrained into the space. The exposed brick is a theme throughout the kitchen, seen in a lime-washed finish on the archway overlooking her stainless steel range, and the pattern is noted again as a sleek tile backsplash above her countertops. Drawing us back to a rustic edge, the kitchen island is a light raw wood contrasted with a white-gray stone countertop. The dimension between these materials enhanced the natural grains and colors in the wood, creating a statement piece the room centers around. 
Gomez added finishing details to hone the space and pulled it all together with her teal pot rack hanging over the island and displaying shiny copper cookware. Copper accents of cups, carafes, and a tea kettle were also sitting on open shelving in cabinets and above her stovetop. "Classical farmhouse decor ideas celebrate pared-back, rustic design features which makes them a popular choice, not only in original heritage buildings, but their design often informs and inspires more modern homes to add a sense of character and country charm," Homes and Gardens deputy editor Jennifer Ebert explained (via Homes and Gardens).
Creating a contemporary farmhouse look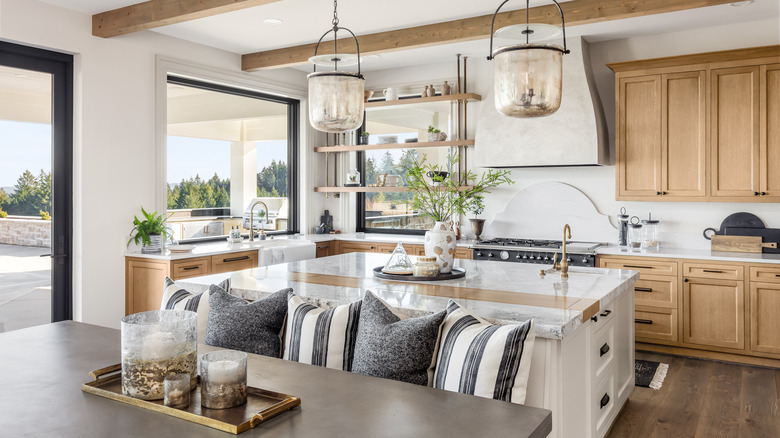 BM_27/Shutterstock
At first thought, attaining a contemporary kitchen that radiates rustic farmhouse like Gomez's may seem way out of budget. But there are many ways to design in an affordable way that won't leave your bank account distressed. Although exposed brick and marble countertops can be costly, there are endless peel-and-stick options that look like the real deal. For example, the NextWall Distressed Faux Brick design from Amazon and the Marble White Self Adhesive from Home Depot are great options, as well as designs from less mainstream businesses like Commonly Decor. Creating a vintage-esque focal point and surrounding it with contemporary elements and other rustic accents will lead to the style you're searching for. These focal points can be many things, from a brick backslash and heavily-grained wood to metal pendant lights and a porcelain sink.
DIYing décor will be a budget-friendly approach, with things like chalk paint, antique finishes, rope, and exposed shelving able to elevate the most straightforward items instantly. Texture is a game changer when designing these spaces, so take advantage of accents such as high-pile rugs, greenery, boucle curtains, and utilizing woven baskets for anything and everything. Lastly, don't underestimate the power of a fresh coat of paint, and be sure to add color and personality. Small pops of color in things like signage, counter appliances, family photos, and recipe books will add one of the most essential touches — the feeling of home.