Joanna Gaines' New Take On Gray Paint Proves The Color Isn't Going Out Of Style Just Yet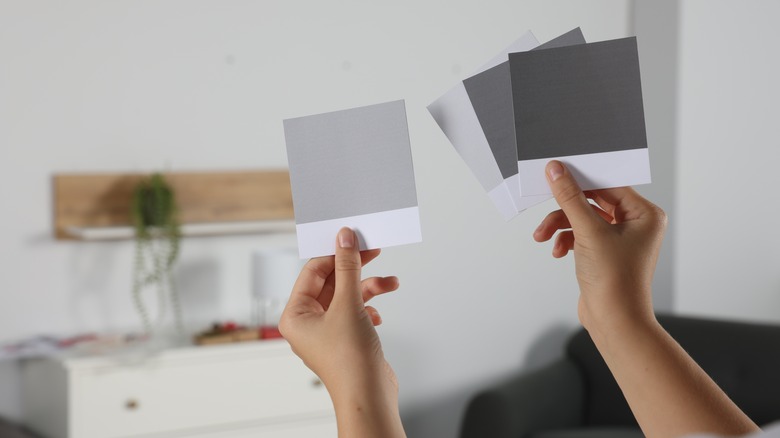 New Africa/Shutterstock
While gray paint maintains a chic reputation, there's a new level of the neutral shade that Joanna Gaines proves is not going anywhere – at least not yet. In one of the "Fixer Upper" star's Instagram posts, an earthy, gray-green shade is present on the walls of her son Crew's bedroom. Although Gaines' interior designs typically appear black and white, a slew of gray-green hues have also been spotted within some of her clients' renovations, including a rich, inviting hue upon the walls of one of her Magnolia Market shops. Whether it's painted on the cabinets, walls, or shelving, the dreamy hue may have the power to make a space feel more cozy while still sleek and modern.
Inspired by the outdoors, the modern farmhouse designer gravitates towards the color green in general for its lively, botanical vibe. "The magnolia leaf — it really signifies just life, it's fresh, it's simple, and it's timeless," she says (via YouTube). When certain amounts of green and gray are combined, a versatile paint color emerges. Like dried herbs, gray-green may appear pale green while possessing soothing gray undertones. However, the centering hue may also look dark gray when hints of green are integrated. Depending on your style, gray-green pairs well with other natural elements like wood and textiles within a living room, kitchen, or bedroom. From faint sage to luxe, smokey hues, Joanna Gaines' new take on gray may offer a heightened sense of sophistication and welcome throughout your home.
Pair your gray-green with distinctive elements
If gray paint feels too flat, Joanna Gaines has a few gray-green shades within her Magnolia Home Market Collection that take the classic neutral for a spin. Light, muted hues might include Early Riser, Clean Slate, or Silverado Sage, which present a more steel-green appearance. If you want darker options, look to colors like Bespoke Green, Cottage Grove, or Luxe. When picking the right shade, Gaines says, "For me, the perfect paint is personal" (via YouTube). A dark gray-green paint would pop when showcased within kitchen cabinetry amidst a serene palette. You might incorporate complementing tones like tan, white, or silver with floating wood shelves and stainless steel appliances and fixtures. Add more distinction with black dome pendant lights, glossy gray backsplash, or marble flooring.
How does the queen of neutrals style it? Keeping things grounded within her son's bedroom, Gaines adds vibrant contrast through the use of white with a large woven rug and baseboards. Additionally, the gray-green walls blend organically with the natural hardwood floors, vast chestnut-colored credenza, and nearly matching small brown leather/wood chairs. The use of black or onyx can also provide positive undertones within picture frames, bookshelves, and distinguished decor. You could also introduce the element of metal through brass or bronze light fixtures and fans. While gray doesn't need to entirely exit the scene, gray-green may provide a soothing, symmetrical aura that Joanna Gaines proves isn't going out of style just yet.