The Right Way To Wash Your Barefoot Dreams Blanket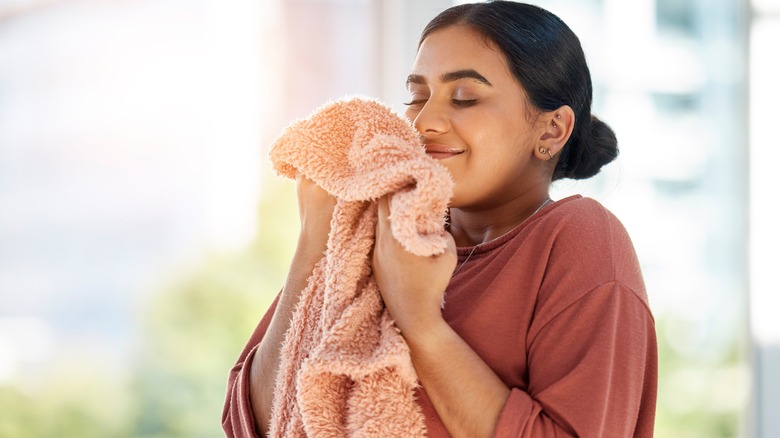 PeopleImages.com - Yuri A/Shutterstock
Is anything more delightful than snuggling up in a CozyChic blanket by Barefoot Dreams? Whether it is a cold and rainy day or the perfect ending to a busy one, these blankets offer unparalleled softness and luxury. However, with regular use, you might feel it is time to give your cozy throw blanket a refreshing wash. Fortunately, the plush blankets can be safely laundered and dried by machine, as long as both avoid heat. The question then becomes: What is the right way to wash your Barefoot Dreams blanket to maintain its unmatched coziness?
The fabric care label of these ultra-comfy blankets assures us that they can be machine-washed. Yet, it is natural to feel a hint of hesitation — we would not want to compromise their buttery softness, would we? So, before you toss your Barefoot Dreams blanket into the laundry machine, it is important to understand that washing it correctly requires a little bit of care and cold water to maintain its exquisite and luxurious feel.
Washing instructions
The classic CozyChic fabric in Barefoot Dreams' blankets and throws is crafted from 100% polyester microfiber. According to the website and fabric instructions, this knit is suitable for machine washing. However, washing the blanket on a delicate cycle using cold water is advisable. Opting for a low agitation or tumbling cycle using cold water is key in safeguarding the fragile fibers of the material and preserving its irresistibly soft texture.
While it might be tempting to use fabric softener to preserve the gentleness of your blanket, it is best to think twice. Barefoot Dreams recommends avoiding such softening agents and using a gentle detergent soap instead. Fabric softeners often contain oils that can clog the synthetic fabric and have a negative effect on its plush and cushiony texture. So, while it is perfectly safe to wash the cozy blanket in a washing machine, it is best to err on the side of caution and follow these guidelines to maintain its quality.
Care tips for drying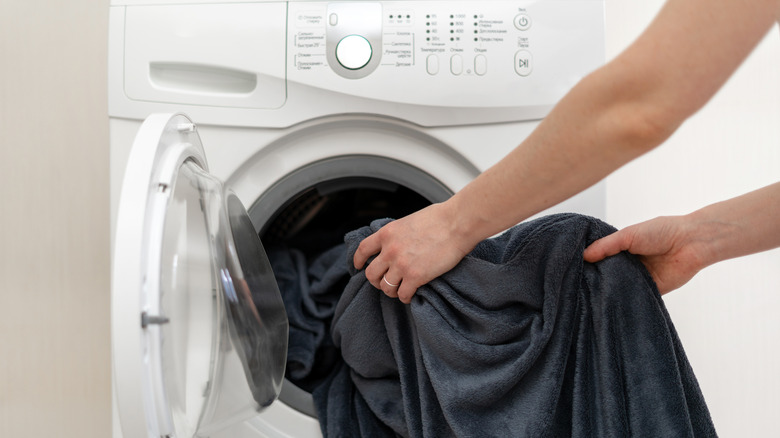 Brizmaker/Getty Images
After successfully washing your Barefoot Dreams blanket, you are now faced with the challenge of drying it. Fortunately, the CozyChic fabric is not only machine washable but also dryable. However, it is important to proceed with caution once again. The fabric care instructions recommend tumble drying on the lowest setting with low heat for minimal time. If possible, the air-fluff dry cycle is ideal. Alternatively, you can also choose to flat-dry the blanket to avoid any exposure to heat from the dryer.
In addition to avoiding fabric softeners, Barefoot Dreams advises against using dryer sheets when drying their blankets and throws. These sheets often contain wax-like chemicals that can weigh down the soft and cozy fabric of your Barefoot Dreams blanket. Therefore, it is best to skip the dryer sheets and allow your blanket to air dry naturally or follow the appropriate instructions provided to retain its comforting feel.