The Lamp Trick Design Expert Penny Morrison Uses To Make Small Rooms Look Bigger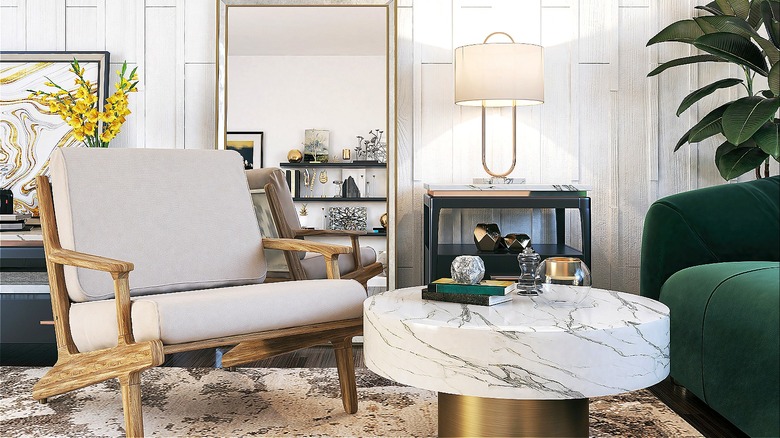 Aleksandra Zlatkovic/Getty Images
Not every room can be a cavernous two stories with floor-to-ceiling windows. Not every home has a large, open floor plan. But any room can feel larger if you know what to do. Design experts often stress the importance of lighting in a room's design, and how to implement lighting in a way that enhances the space rather than disrupts it. As design expert Penny Morrison notes on her website, "Effective lighting is a little like gravity, good air, or cool, crisp water — it's exactly what we all need but, provided it's doing its job, is usually being overlooked." Like, say, the table lamp in the corner.
Lighting doesn't only illuminate the room, but it can also be a useful design tool to make a space appear larger. What's great is that you don't need to rig a room with an expensive lighting setup because a simple lamp will do. Overhead lighting bathes the entire room in light, while table and floor lamps create a small pool of light around the area in which they're placed. Says Morrison of corner lamps, "[O]ne of the greatest benefits to this is the ability to replace dark and 'shrunken' looking corners with light and to essentially expand the corners of the room."
Adding lamps to the corners
Onurdongel/Getty Images
As Penny Morrison explains, strategically placing a lamp in the corners of a room can brighten up dark spaces and, effectively, make the room appear larger. While overhead lighting may seem like the obvious first choice to brighten up a room, this kind of lighting can be too harsh and often unflattering for you and your space. Floor and table lamps around a room, on the other hand, provide softer lighting and also give you more control over the direction of the light.
"Lamps typically direct the most light directly up and directly downward," says Morrison, "creating those lovely pools of light on the ceiling, and on the upper and lower portions of the wall." As a result, by placing lamps at the corners, you can highlight a room's edges and make the most of every inch of space, which can prove especially helpful for smaller rooms.
But you don't want to simply stick a lamp in the corner and leave it there. Instead, create a vignette with art, a small accent chair, or an end table to connect this corner to the rest of the room. Not only will it brighten the space, but it'll also make it feel like a thoughtful design. In general, if you're looking to brighten a space, cooler lighting is better than warmer lighting. White light feels cleaner and more modern. And though warmer light can feel cozy and comforting, it can also make a space feel more closed-in than it actually is.