Nate Berkus' Best Tip For Merging Two Opposing Design Styles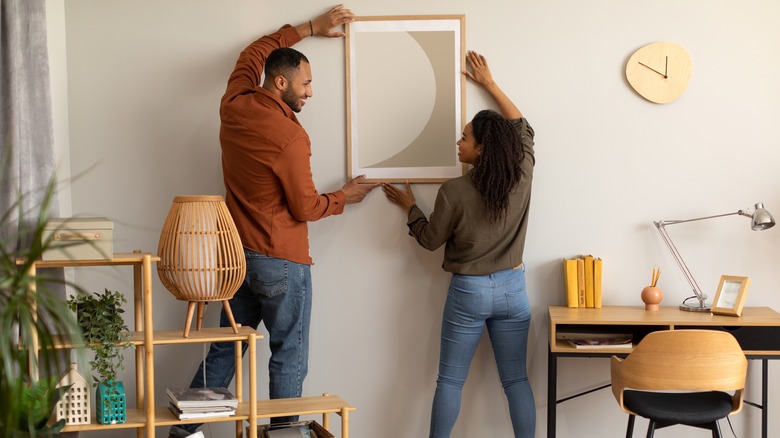 Prostock-studio/Shutterstock
Contrary to what some may think, interior design "rules" don't have to be followed. In fact, design expert Nate Berkus believes they should be broken. Your home should reflect your interests and feel like an extension of yourself. Choosing a style that resonates with you is an effective way to design a space, but blending styles is even better. Mixing aesthetics is also sometimes necessary when two different people live in one home. There are many interior decorating styles that can blend harmoniously. Industrial interiors pair well with minimalism, and bohemian is the perfect companion for shabby chic. Tastefully incorporating two design styles is less simple than choosing just one, but according to Berkus, it's entirely possible. The trick is to find similarities between the styles and lean into them.
Berkus showcases a blended interior design style in the home he shares with his husband, Jeremiah Brent. Brent, also an interior designer, likes modern elements, while Berkus enjoys classical ones. So, they found ways to integrate their personal design preferences so that they both felt a connection to the space. According to Berkus, mixing interior design styles is a compromise that delivers attractive and personable results. 
Finding common elements is key when merging styles
When designing a space with another, compromise is essential. Luckily, by emphasizing common design elements, multiple parties will see their style reflected in a room. Nate Berkus took to Instagram to show the inventive way he and his husband Jeremiah Brent combined their tastes. The couple created a vignette that married Berkus' classical Romanesque bust and Brent's stone pillar and modern triangular wall sculpture. Though Berkus was initially wary of putting the pedestal inside the apartment, the stone pairs beautifully with the rock of the bust. Even though their design styles differ, the two looks are tied together by texture.
The texture is the common ground between their aesthetics, and Berkus says finding similarities is crucial when designing a home with someone. Similar design elements can be anything from texture to color and shape. For example, a damask print works for traditional schemes, but it also has a maximalist feel with the curves and ornate flourishes that you'd find in art nouveau decor. Look for opportunities to combine decor and furniture that shares a trait or feature. Decorating with beloved pieces that have crossover appeal is the best way to create a design style that's totally unique to your home.