Elevate Your IKEA BILLY Bookcase With A Stunning Arch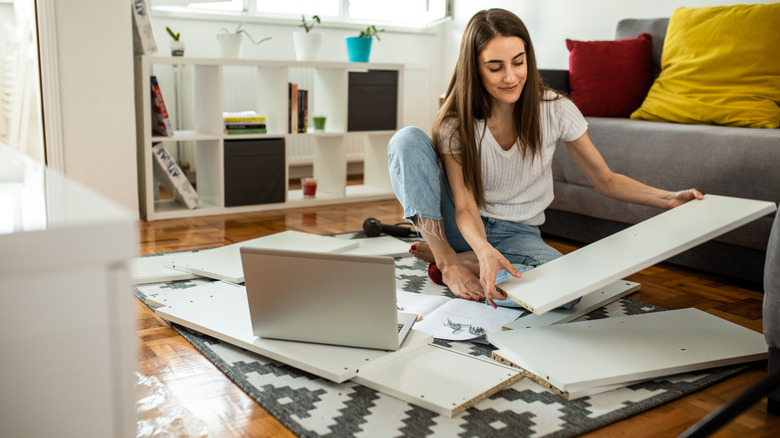 Andrija Nikolic/Getty Images
Home libraries are often seen as ultra-luxe, inaccessible, and reserved only for those living in a mansion, but something tells us that's all about to change. Recently, clever DIYers have been getting creative with one of IKEA's most popular items. People have turned the BILLY Bookcase into their very own home bar, built-in office desk, or food storage space, but the innovation doesn't stop there. Youtuber, blogger, and all-around creative Rachel Martino showcased her transformation of the store's well-loved item in a TikTok video, taking it from a simplistic setup to something that looks custom-built with a few simple arched accents.
Thankfully, this project is much easier to pull off than the final reveal would have you believe. With a few basic tools and some simple DIY skills, you should be able to replicate this elevated, arched bookcase in no time. Building off of a base of existing IKEA items significantly cuts down the amount of actual construction you'll have to do, so the bulk of this project is essentially just the furniture assembly you're likely already familiar with.
How to do this yourself
@rachmartino

Ikea Hack for built in arched bookshelves! I love that we decided to go with an L shaped design it really makes the room feel so special and cozy. We used 6 Havsta cabinets, 6 billy bookshelves 3 shelf version) and 6 billy extensions. What do you think of the final look?

♬ Do You Believe in Magic - The Lovin' Spoonful
A project like this is entirely dependent on the space you're working with, but, in Rachel Martino's TikTok, she's adding her built-ins along one corner of the room. After taking measurements, she decided on exactly what materials she needed: six HAVSTA cabinets, six BILLY bookcases, and six BILLY extensions. She also used Backdrop's Saturday on Sunday paint, 1/2 inch sanded plywood, and a bit of trim. It's worth noting that this project isn't the cheapest DIY out there — the IKEA pieces alone add up to almost $2,000 — but it's still on the lower end that you would pay for custom built-ins.
After assembling all her furniture, she stacks the BILLY extensions and bookcases on top of the HAVSTA cabinets and secures them in place. She trims down the plywood to make the arches, fastens them to the front of the built-ins, and then adds a bit of trim to make everything look more professional. After painting, she's left with a custom-looking corner that adds color, storage, and interest to a stunning living room setup.