Why Panel-Ready Appliances Might Be A Good Option For Your Kitchen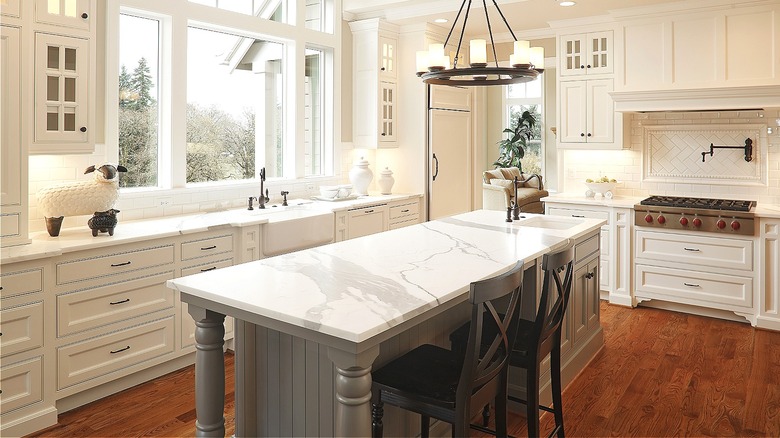 Chuckcollier/Getty Images
Remodeling your kitchen is a big task, and finding appliances with the perfect look to match the cabinetry can be difficult. Panel-ready appliances address this design challenge; these appliances let you totally customize the way your refrigerator or dishwasher will look. They're specially made to allow custom panels to be attached to the front, making it easier to find the perfect color and style. These appliances are essentially hidden, blending into your kitchen cabinetry for a seamless look.
Some companies have selections of panels that you can order, or you have the option to hire a cabinet maker to craft one for you. If you've had custom cabinets put into your kitchen, panel-ready appliances could be a great option for ensuring your refrigerator matches your décor.
While panel-ready appliances give you full creative control over the look of your kitchen, they're more expensive than standard appliances and you'll still have to cover the cost of the panel. These appliances are also troublesome to install, and you'll likely need a professional to complete the job.
Benefits of panel-ready appliances
Brands that offer panel-ready appliances, such as Fisher & Paykel, Bosch, ZLINE, Samsung, Sub-Zero, KitchenAid, and JennAir, tend to sell higher-end appliances. While this does come with a bigger price tag, you'll be getting a fridge or dishwasher that's extremely functional, as well as customizable. Because panel-ready appliances line up with cabinetry rather than sticking out from it, they'll make your kitchen look more aesthetically pleasing. Panel-ready appliances may also increase the value of your home, so if you decide to move, the appliance could end up paying for itself.
These specialty appliances can be found in stores like The Home Depot, Lowe's, Best Buy, and IKEA. If you favor a certain appliance brand, you'll likely find a selection of panel-ready fridges and dishwashers on its website. If you don't like the look of traditional steel appliances, panel-ready options may be the perfect solution for your kitchen.
Downsides of panel-ready appliances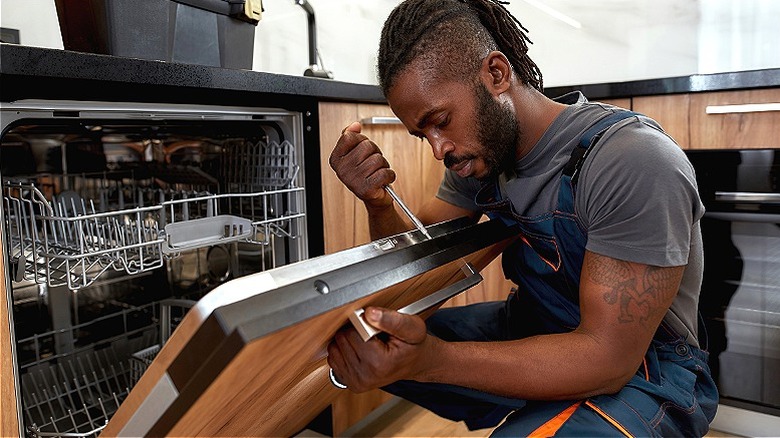 BAZA Production/Shutterstock
As said, because panel-ready appliances are customizable, the cost can be quite expensive, especially if you have panels built by a cabinet maker. You'll also likely need to purchase hardware to fasten the panels onto your unfinished appliance. For example, depending on the brand of refrigerator and style and materials you choose, a panel-ready fridge can cost between $4,000 and $10,000. Installing these appliances flush with your cabinets will also make the job more difficult.
Further, if you're replacing an appliance rather than remodeling your kitchen space, you may have trouble fitting a panel-ready dishwasher or fridge into the spot where your old appliance was. This can also become an issue in the future if your panel-ready appliance breaks, as it can be difficult to find a replacement with the same dimensions. While panel-ready appliances aren't the best choice for everyone, they offer benefits if you can afford the price.