HGTV Star Emily Henderson Reveals Game-Changing Tips For Building An Organized Pantry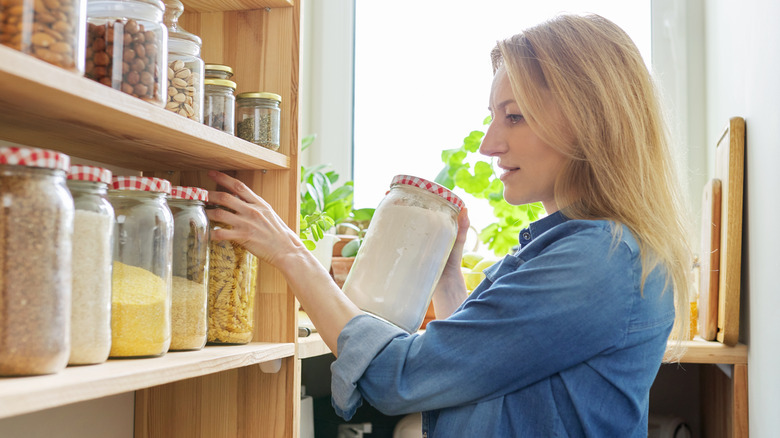 VH-studio/Shutterstock
We may receive a commission on purchases made from links.
Has your pantry become an unwieldy, chaotic mess? If so, you'll need a plan to tackle it. That's the first step Emily Henderson, host of HGTV's "Secrets of a Stylist" and winner of "Design Star," takes when organizing pantries. For Henderson, organizing your pantry is akin to organizing your life. So, you'll need to establish a framework to operate within so that your results will be successful. To begin, you'll want to designate certain areas for different types of storage. This means deciding where the open storage will be, where you will put closed storage, where you will need hooks, where you can incorporate drawers, and where the outlets are. 
Open storage, like shelving, is great for holding large items, including appliances. You'll want to ensure you have outlets near these areas if you'll be using your appliances in the pantry. Open storage also works well for items you frequently grab and/or need easy access to. You can organize open storage space further with some bins and baskets. Closed storage, like cabinets, is great for items that shouldn't get too much light exposure, such as tea, coffee, and bread. Henderson also suggests reserving closed storage spaces for unsightly looking items, such as cleaning supplies and small appliances with long cords. Within these spaces, you can organize even further.
Use hooks, drawers, and shelving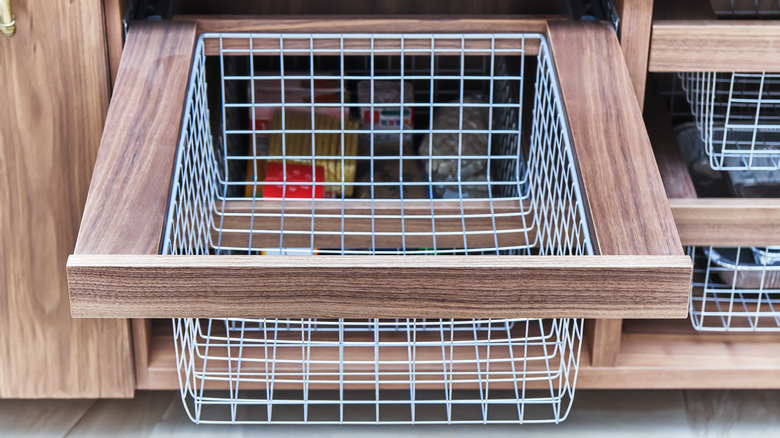 Timltv/Getty Images
To take your organization to the next level, you can hang some hooks, which allow you to utilize vertical space to hang things like aprons, reusable grocery bags, pots, pans, utensils, brooms, and mops. When it comes to optimizing the space in deep cabinets, Henderson recommends pull-out drawers. You can install tall cabinets with several pull-out drawers to use up all the vertical space and gain easy access to items that can fall to the back and be forgotten about. You can also add wire or plastic multi-tiered drawers to open cabinet space to get the same effect.
Another way to maximize your pantry space is to use shallow storage pieces on the backs of the doors of your cabinets. Henderson says small shelves or over-the-door units are great for holding items like spices, boxes of tea, and bottles. For example, this over-the-door pantry organizer from Amazon has six baskets and sells for $33. 
Other things to keep in mind when organizing your pantry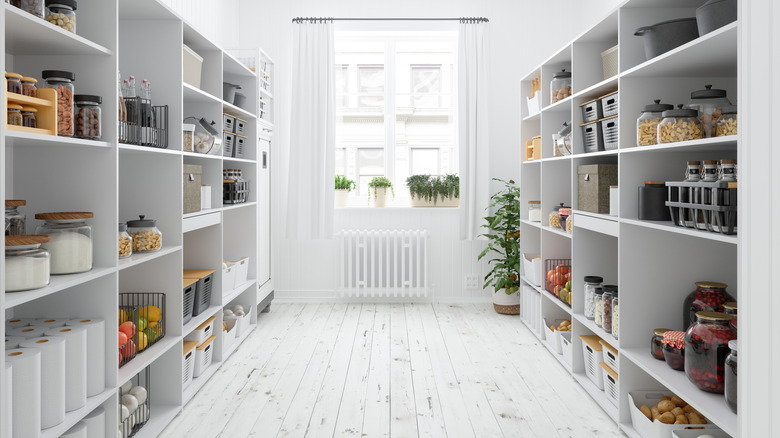 Onurdongel/Getty Images
When deciding on the general pantry layout, Henderson advises that you should place the most frequently used items closer to the entry of your pantry and in places where they are easily accessible. Also, remember that everything in your pantry should have its own section, such as pet stuff, snacks, and drinks. Similar objects should always be grouped together as well. So, bread goes with bread, and paper towel rolls go with other paper towel rolls. 
Once you know what will go where, you can organize those individual spaces to look aesthetically pleasing. Henderson puts the contents of boxes and things bought in bulk in decanted clear containers to create a soothing, uniform look. Stacked and raised organizers keep items from falling over, like this stackable water bottle organizer from Amazon for $23 and this stackable divided bin for $14 that holds snacks. This can rack for $24 will organize and keep your cans from rolling away. These risers for $35 are also great space-saving items for pantries. 
If you're looking for better access in deep cabinets, try this two-pack of small plastic lazy Susans for $12 or this large wooden one for $14. These under-shelf baskets for $20 take advantage of typically unused space and are great for things like sandwich bags. There are almost endless items you can use to organize your pantry and keep it neat. But, according to Henderson, it all starts with making that plan.