Jasmine Roth's Clever Hack Will Instantly Elevate A Cement Patio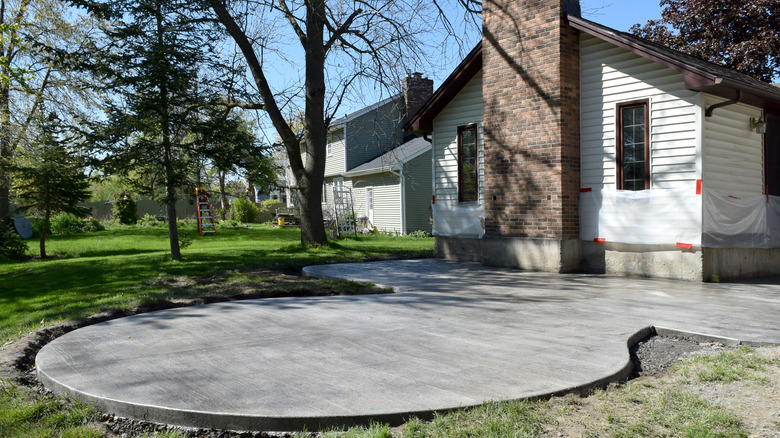 eyerazor/Shutterstock
We may receive a commission on purchases made from links.
Cement and concrete patios are excellent to add to any yard because they're durable, easy to clean in three simple steps, and long-lasting. They resist temperature changes and storms like heavy rain, scorching rays, and damaging blizzards. Further, once you add one, you don't need to worry about slipping in muddy puddles. However, although cement patios offer many benefits, they can make a house look dull with their gray tone. The cement color might not complement your home's exterior, even though it's one of the most durable materials you can use. Fortunately, HGTV's Jasmine Roth knows how to elevate a bland cement patio with a fun stencil design and paint.
In HGTV's TikTok, Roth claims she could have installed tile instead of renovating the cement but chose not to because it was outside her budget. Installing tile outside will vary in price depending on the material and size, but tiling a space can cost anywhere between $1.50 to $28 per square foot. Further, if you've never installed tile by yourself, you'd have to hire a professional, which would increase the price due to labor costs. That's why using tile stencils, chalk paint, and a stencil brush like Roth does will save you money and transform your cement patio's appearance with less effort. This DIY project is beginner-friendly and could be completed in just one day. Before you begin, you may want to pressure wash the surface to remove any debris that could get stuck in the paint.
Use a tile stencil to create a fun design
In HGTV's TikTok, Jasmine Roth elevates a cement walkway with a stencil and paint, though you could do the same to an entire patio. She states that chalk paint is ideal to use on cement since it adheres well to the textured surface. Retailer Michael's sells white chalk paint for about $10. Of course, you can choose another color if it will better complement your home. Amazon has various tile stencil pattern options; for instance, they have a four-pack of moroccan-inspired designs for about $20. In addition, Amazon offers a five-piece stencil brush set for about $10. It would also be smart to seal the paint with a cement sealer so that it doesn't wash away or fade over time.
Roth effortlessly transformed her cement walkway with the tile stencil. She started in one of the corners and made her way across the walkway, working in sections. The stencil brush helps apply the chalk paint more easily to the stencil. Roth dabbed the paint on the openings until it covered the entire surface. If you're working with a larger patio, you might have to take breaks or finish it over a few days. A great tip to remember is that using a measuring tape will ensure the stencils line up symmetrically. Take your time and have fun with the project, then sit back and enjoy the finished product.