Make Your Bathroom Look More Luxe With Rihanna's Expert-Approved Design Choice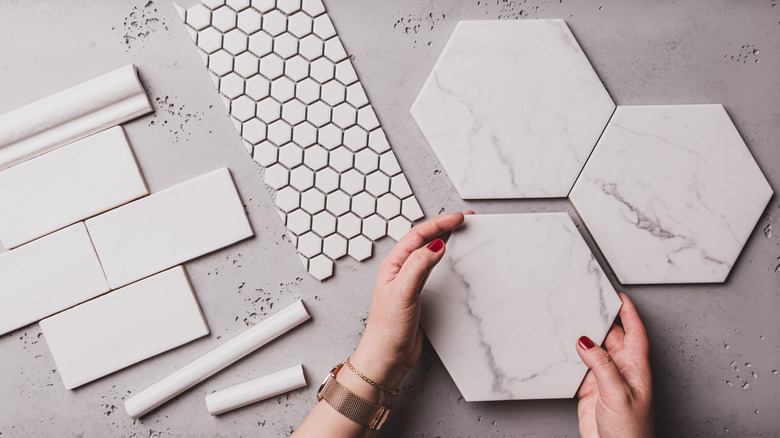 Pinkyone/Shutterstock
Singer, mother, and entrepreneur Rihanna is a trendsetter, and once you see her bathroom you may want to copy it in your own home. In a video posted on her Instagram where she completes her makeup routine, Rihanna's beautiful bathroom design can clearly be seen behind her. The walls are covered in gray-and-white marble, but it's the bold black horizontal stripes in the entrepreneur's bathroom that have caught the eye of designers, as they make the room look and feel like a spa. 
Speaking to Homes & Gardens, designer Jove Meyer stated, "This design feels like a high-end hotel bathroom more than a residential one. The benefit of this design is that it is minimal and clean, so you can focus on the person in the mirror and not be distracted by bold art or patterns, it gives a full-on modern spa vibe." Interior design expert David Lindley expanded on why Rihanna's bathroom looks so luxe and explained that, "The choice of white and gray marble with black horizontal stripes for Rihanna's bathroom wall offers several design benefits, such as elegance and luxury. Marble is often associated with sophistication, and the white and gray tones in this design contribute to an upscale energy." Want to get the look for yourself? Here's everything you need to know.
Include dark horizontal strips
Jove Meyer also told Homes & Gardens that "The benefit of a modern, clean gray marble with black stripe design in your bathroom is that it expands the room. Horizontal stripes tend to do that, especially when mixed with the lighter tone marble, it expands this room to be wider and larger than it actually is." This makes black horizontal stripes an excellent design choice if you have a small bathroom or one that's narrow in proportions. Of course, black can make a room look darker, so it's also important to balance out the black stripes with lighter colors elsewhere.
Moreover, as with any bold design, proportion is key, and a horizontal black stripe is no different. To achieve the goal of making your bathroom look larger, aim for stripes that are approximately 1 to 2 inches wide, leaving a gap of 3 inches between the stripes. If you have higher ceilings, you could extend this gap to 10 inches or even to a couple feet like Rihanna did. When in doubt, ask a professional about spacing, as they often have a great eye for how spaced out elements should be.
Statement marble creates a luxe look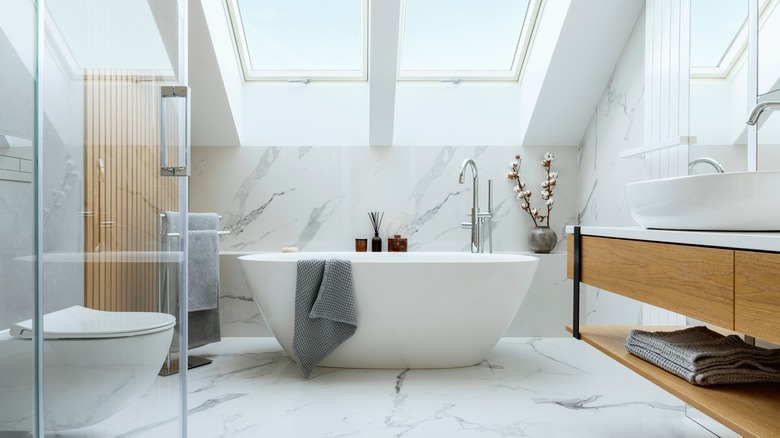 Followtheflow/Shutterstock
If you want your bathroom to have a luxurious look, it's important to carry one material throughout most of the room: statement marble. Aside from the eye-catching stripe design, this stone is the main theme in Rihanna's bathroom. A marble look is relatively easy to achieve, though the actual material can be expensive. If you live in a rented property or are following a strict budget, a wide variety of marble vinyl tiles are available that simply peel and stick onto the walls or floor so you don't have to make any permanent changes.
Marble is a bold material, so unless you have a larger bathroom it's best to keep it on one area, i.e. the walls, the floor, or even the countertops. If your bathroom is on the bigger side this may not apply, but too much of one material could overwhelm a smaller space. In this case, sticking to marble walls as seen in Rihanna's bathroom will bring an expensive look and feel without appearing visually overwhelming. White and gray is one of the most popular marble color palette choices, and it will brighten up the bathroom due to its lighter look. This is definitely an added benefit of this design choice, especially if you plan on adding dark horizontal stripes as well.