HGTV's Erin Napier Shares Her All-Time Favorite Interior Paint Color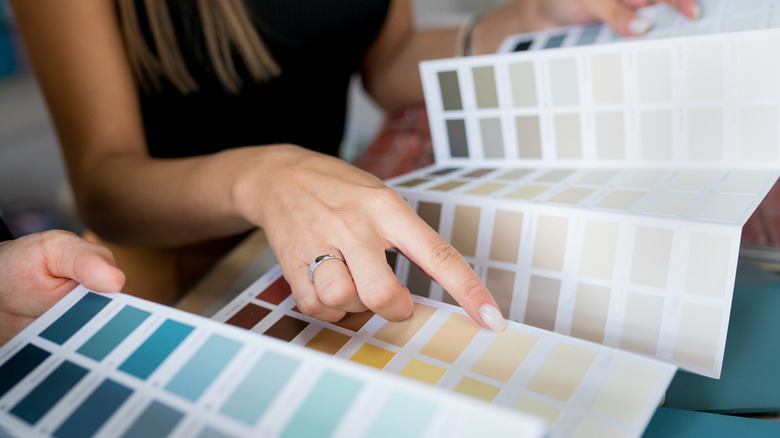 Tatiana Gordievskaia/Shutterstock
Best known for injecting life into the small, but lovely, area of Laurel, Mississippi, on "Home Town" alongside her husband Ben, Erin Napier knows a thing or two about interior design. The HGTV regular has renovated tons of houses and, if you love her design style as much as we do, you can recreate it thanks to Erin sharing her all-time favorite paint color for indoor spaces. 
Napier's go-to paint for interior areas is "Dover White SW 6835" by Sherwin-Williams. Described as a "a warm, sun-splashed white," this coastal-esque hue will bring a cozy ambiance to your home. As it's a neutral shade, "Dover White" would be a great complementary color for brighter, bolder shades too. Moreover, due to it being a warm-toned white, it will bring some warmth into a smaller room, while making a large room feel more homey.
Or, take some inspiration from Erin, who shared with HGTV: "We used the eggshell finish on our walls with semi-gloss on the trim." Looking for more ideas on how to incorporate this stunning shade into your home? We've got plenty of suggestions on how to do just that.
This warm color is a great fit for a home with a more traditional feel
If you're looking to update your kitchen, "Dover White" is the perfect pairing for a space that isn't overly modern. Its cream-toned hue will open up even the smallest kitchens, and it's also versatile enough to match with several other shades. We would recommend pairing it with warm wood tones — for example, a rustic kitchen table in warm oak. This is because warm tones naturally work in harmony with each other, whereas opting for a cool-toned wood table may feel a little jarring when used with a color like "Dover White." 
It's also an ideal shade for your bathroom. Most people want their bathroom to be light and airy, and "Dover White" will do just that without appearing too cold under brighter lighting. Finally, "Dover White" used in a study will provide you with the perfect environment for getting some work done thanks to its hushed, understated look. 
As for which colors to match "Dover White" with, neutrals are often paired with more saturated colors to bring out the full undertones of the shade. Due to it being a warm color, "Dover White" would look great with beige-toned shades if you want to stick to neutrals, or calming sage green for a more in-your-face yet still relaxing vibe.