HGTV's Alison Victoria Says This Windy City Reno Had The Greatest Kitchen Ever Done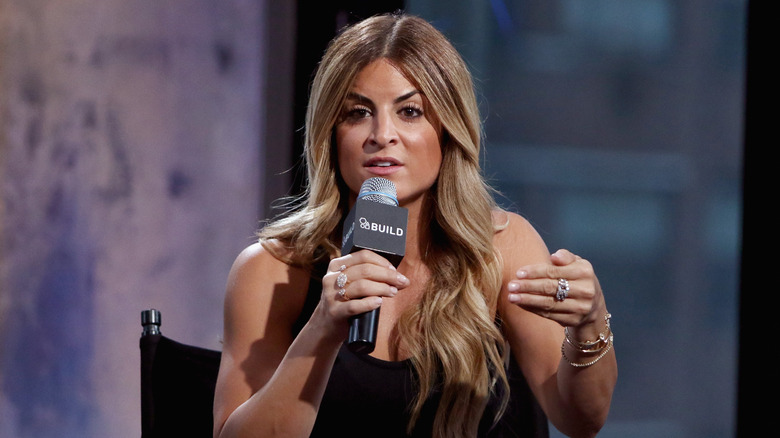 Jim Spellman/Getty Images
Alison Victoria, host and designer for HGTV's "Windy City Rehab" has definitely been a guiding force behind many gorgeous and unique home transformations. One particular kitchen, however, ranks on the top of her list for renovations and quite possibly, according to Victoria, the greatest kitchen the designer has helped create. 
Outfitted with trendsetting touches like lots of black and brass accents, the total rehab of a multi-story 1890s Chicago home is especially striking for its balance between clean modern design aesthetics and rustic natural touches like a salvaged front door and newel post. The home's open-concept living room towers above a formidable fireplace, three stories tall and filled with light from the windows facing the street. Other high notes include a glass wine cellar under the main stairs and a full-outfitted gym on the lowest level. Towering salvaged French doors lead the way through a narrow and stylish dining room into a remarkable kitchen, eliciting a gasp of surprise and delight from the homeowners.
Modern style and natural accents
The kitchen's spacious marble-clad island includes a pedestal at the end, handmade from an actual tree stump outfitted in brass plating and black, providing a seating area Alison Victoria promises the owners they will no doubt spend the majority of their time enjoying. With state-of-the-art and oversized appliances, the rest of the kitchen mixes the sleekness of black cabinets with the softness of natural light wood cabinets and lots of glass, including a mirrored surround for a bar area, complete with built-in glass shelving and under-counter fridges.
The lines of the kitchen are as grand as the home's high ceilings, stretching high overhead, providing ample storage space for the couple. The large mirrored wall reflects the entire kitchen and ample light from the full-size wall of windows at the far end. The effect on the room is both sleek and cozy, and a spot that is most definitely guaranteed to be the heart of the home.