Give Your Walls A Shiny Upgrade With This Aluminum Foil Wallpaper Hack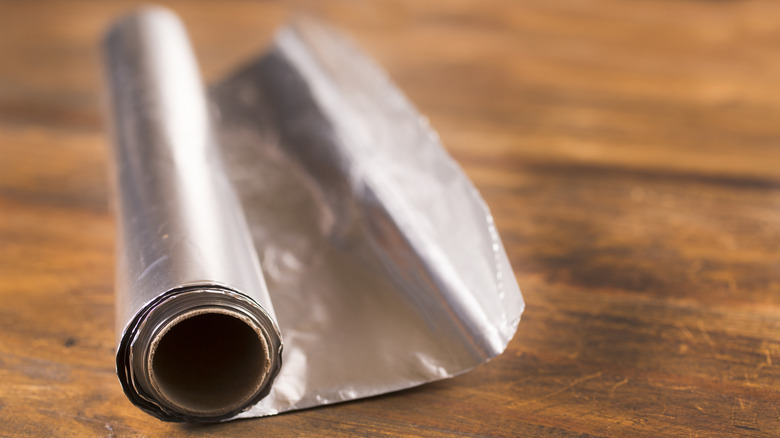 Lifestylevisuals/Getty Images
From storing and heating food to cleaning dishes and even moving heavy furniture, aluminum foil is a versatile product to keep in your home. However, most wouldn't suspect it can serve as wallpaper for a unique alternative to traditional wall coverings or paint schemes. If you're seeking a design hack that can add texture, catch and reflect natural light, and provide a glam accent wall with just a few supplies and a low budget, then you're in luck.
Turning rooms with old wallpaper or outdated paint jobs into vintage-looking, futuristic, or even ultra-modern spaces is as easy as glue, foil, press, and repeat! However, before you can transform your space, you'll need to ensure you have plenty of foil on hand (depending on the size of the wall), a smoother or rubber roller, and wallpaper paste. Additionally, it's always a good idea to prep your walls beforehand, just as you would if applying conventional wallpaper. Finally, consider whether you'd like the effect to be smooth and sleek or crinkled and vintage; whatever your preference, we've got you covered.
How to use aluminum foil as wallpaper
To get started, apply an even layer of wallpaper paste to the area you're covering. After you've spread the paste over the wall, cover the area with a single layer of aluminum foil. It helps to pre-cut the sheets before application, especially if you cover a wall with sharp corners, rounded edges, or any unusual protrusions. Once you've got the area covered, use a wallpaper smoothing tool or the palm of your hand to smooth out the foil.
If the look you're trying to achieve is sleek and smooth, let the walls dry, and you're all done! But, if you're going for a more vintage or antique look, you'll need to amend the process. Instead of starting with smooth foil sheets, simply scrunch each pre-cut sheet into a ball and smooth them out somewhat before application. Then, as you smooth the foil over the glue, the wrinkles in the aluminum foil will create a crinkled effect for added texture and visual interest.