The 'Overrated' Flooring Trend Christina Hall Proves You Don't Need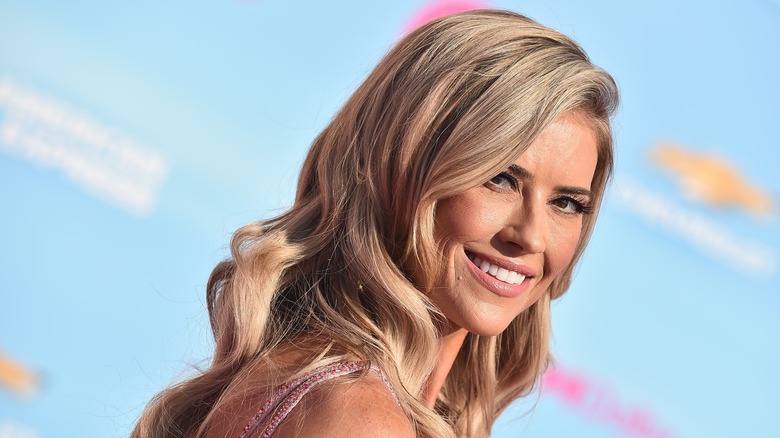 DFree/Shutterstock
Open floor plans have become quite popular with all of their benefits, from being able to see from one room to the next to making the most use of your space. Often, these interior designs use the same type of flooring material from one side of the home to the other, a process called continuous flooring. It sounds good, seems to be a simple solution, and can make decisions at the home improvement store easy. However, Christina Hall of HGTV's "Christina on the Coast" shared why she feels that continuous floors can be overrated, necessary expenses in the episode "Outgrowing Old Spaces." (via Realtor).
While you can choose to have the same flooring span all of the home or most of it, there are several key benefits to not doing so, especially as your tastes change over time or rooms morph from one function to another. Ultimately, you'll want to choose flooring that complements the layout, functional needs, and style choices you love.
Some people choose continuous flooring when they're updating all floors in the home, as it may be less expensive to purchase a large amount at a discounted cost. Another benefit is that it's often easier to clean and maintain without having to switch from one type of cleaning method to another as you work through the home. Finally, some believe it creates a more unified home. Yet, there are some big reasons this flooring option is really overrated.
Continuous flooring makes updates harder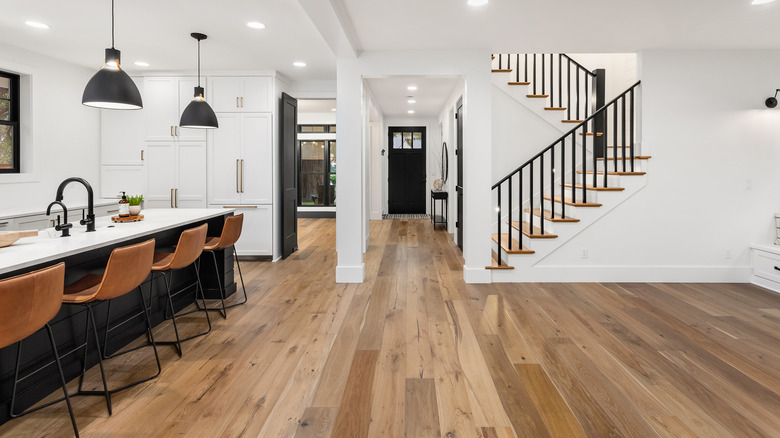 BM_27/Shutterstock
One of the big reasons not to invest in continuous flooring is the cost of updating. Over time, some areas of your home may become more worn and age more readily than others. While you may expect to have to change out the flooring in the living room, you may not want to have to pull it all up out of the dining room you rarely use, as well. The front foyer may not get nearly the wear from traffic that the bedroom hallway does. With continuous flooring, though, you'll have to remove all of the flooring and put in new options, especially if the older flooring cannot be located to replace just a portion of it. That can increase the cost of the update throughout the time you own your home.
Another drawback is simply getting all areas of the home to match and still creating different aesthetics. For example, the lighter tone of your flooring may work very well with the softer look of your living room, but it may not work as well with the more modern feel of the kitchen layout. With continuous flooring, everything has to coordinate with the flooring material you select based on color, style, texture, and overall appeal. That's just fine if you want your home to have the same look from one area to the next. Before you make the decision to invest in continuous flooring, make sure you've considered your short- and long-term goals.
What to do if you already have continuous flooring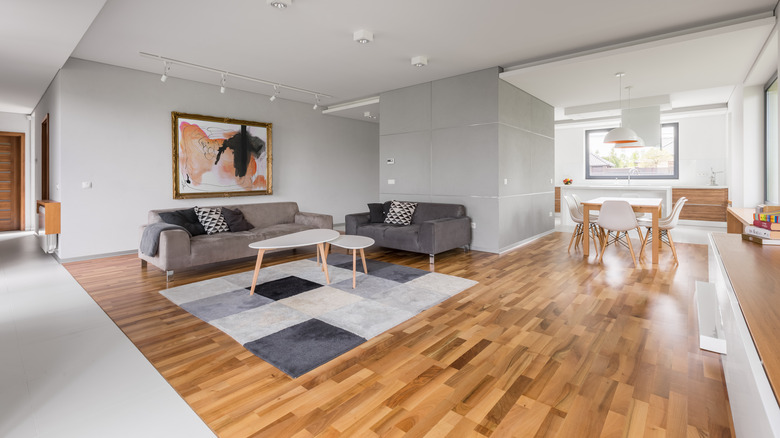 Dariusz Jarzabek/Shutterstock
Perhaps you already have continuous floors in your home, and you're struggling with your next update. Do you have to keep them? The answer is no. In the episode, Christina Hall helps new homeowners change out the existing floor in some areas of their new home that need the update without having to update the entire home. Hall does this by finding new flooring options for the troublesome areas that complement the rest of the flooring they want to keep in place.
In this case, Hall uses a second flooring type that's similar but lighter, adding it into specific areas, like the kitchen, family room, and entryway, which helps brighten up the space without actually breaking up the visual the continuous flooring creates. The result is a two-toned floor that offers the best of both worlds.
If you need to update just a few areas of your floor, consider changing out the material for a new choice, such as replacing vinyl flooring with wood or incorporating an area with ceramic tile to designate a certain area, like the kitchen from the dining room. Choose slightly different colors, textures, or patterns to allow certain areas to stand out without becoming an attention-grabbing eyesore.