HGTV's Mina Starsiak Shares Her Foolproof Formula For The Perfect Living Room Layout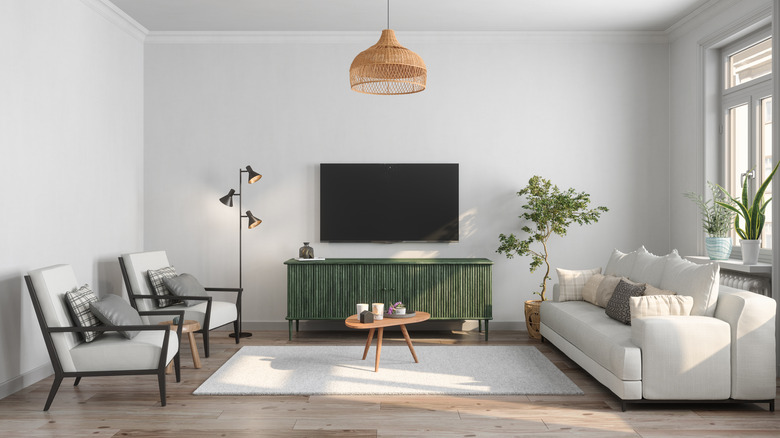 Onurdongel/Getty Images
HGTV "Good Bones" star Mina Starsiak has been a part of some amazing home transformations, often employing practical solutions to account for awkward layouts and homeowner needs. She recently gave HGTV viewers some great advice on how to simplify their living room layouts with some easy-to-embrace guidelines that work every time for furniture placement. Starsiak's suggestion on how to arrange your sofa, accent chairs, and coffee table is an easy enough approach that even a design novice can instantly have their living room looking cohesive and pulled together.
Living rooms can often be tricky spaces to lay out. Openings like doors, windows, and passageways can impact the free flow of traffic through the room. Rooms can be smaller or larger than we'd like, and asymmetrical or open-concept plans are some of the trickiest spaces to outfit. Thankfully, Starsiak's advice for arranging large living room pieces will help you create an inviting and well-designed floor plan that works for almost every space.
Arranging your living room pieces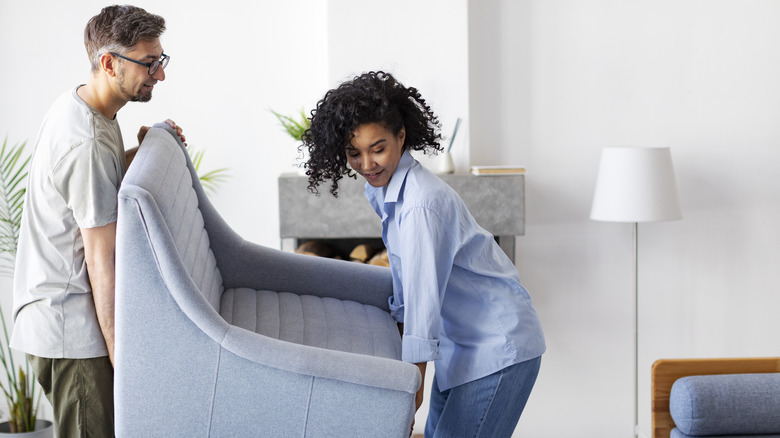 Julpo/Getty Images
Mina Starsiak suggests that homeowners begin with sofa placement. This is often the largest piece in any room and the guiding force in subsequent design and placement choices. Keeping in mind the traffic flow and desired focal points, place the sofa in the room first and move forward from there. The best placement for chairs is often directly across from the sofa, which creates a cozy conversation nook that is perfect for entertainment. You can leave them parallel to the sofa or angle them slightly inward if there is sufficient room.
The final element in the configuration is the coffee table, which will ideally be placed between the sofa and chairs. This will make it reachable from both seats but still allow free movement between seats and around the room. You may, however, have to place it closer to the sofa to accomplish this, in which case, you may also want to add a small side table between the chairs. The open space between elements is particularly important if inhabitants and guests will be walking around or through the seating area often. Starsiak's layout works particularly well for open-concept layouts to help differentiate the living room seating zone from other zones, while still allowing easy movement between them. It's also a perfect solution to long and narrow living rooms, which often pose unique design challenges.