Make Your Home Feel Straight Out Of Harry Potter With This Easy Pool Noodle Hack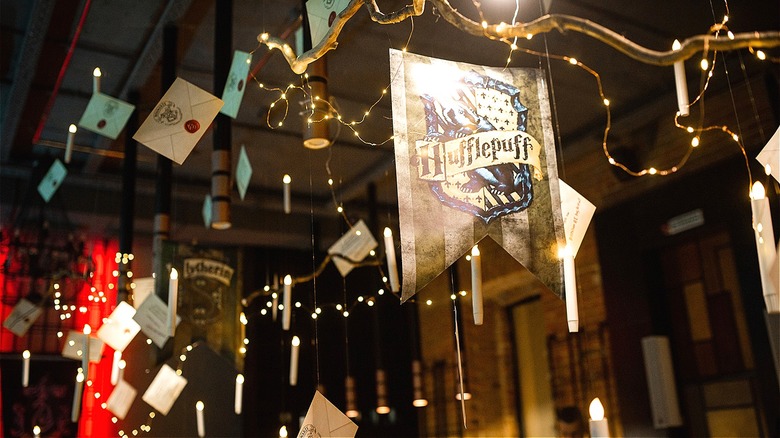 Ekaterina Soldatenko/Shutterstock
As Halloween season creeps ever closer, you may be looking for inexpensive décor and fun DIYs that have a whole lot of spookiness at a low, low cost. To that end, TikToker @mleg831 recently showed off a hack that turns pool noodles into floating candles — reminiscent of the magical ones seen in the "Harry Potter" films. Not only does this simple hack make great use of leftover summer pool noodles, but the supplies list is also made up of many items you likely already have at home.
Floating candle setups using LED candles that hang from the ceiling have been a popular décor element in recent years, coming in sets that add an eerie bit of magic to any room. They look particularly great as an accompaniment to other fall and Halloween décor, where they can float above fireplaces and dining tables, casting a spooky glow below and above. Most sets are battery-operated with a remote control to turn them on and off.
Making faux floating candles like in Harry Potter
To recreate TikToker @mleg831's "Harry Potter"-inspired floating candles made from pool noodles, start by cutting a pool noodle into small pillars. Then, use tape to form a rough edge that resembles the top of a used candle (@mleg831 recommends against using painter's tape, but you can use duct tape or masking tape with a little more sticking power). After shaping the top of the candle, use a glue gun to create drips along the side. Next, place a battery-operated LED tea light on the top of each pool noodle pillar for the flame, and then spray paint all the elements black. Finish the hack up by wrapping a string or fishing line around each floating candle, then hanging them from the ceiling with Command Hooks.
You can create as many "Harry Potter" faux candles as you like and hang them as densely as you prefer. These pool noodles-turned-candles also make great pillar candles for other décor uses like mantles and centerpieces when grouped together. In addition to black, you can paint your hacked pool noodles other autumn and Halloween shades like red, orange, or brown.