This DIY Eucalyptus Garland Makes For The Perfect Fall Décor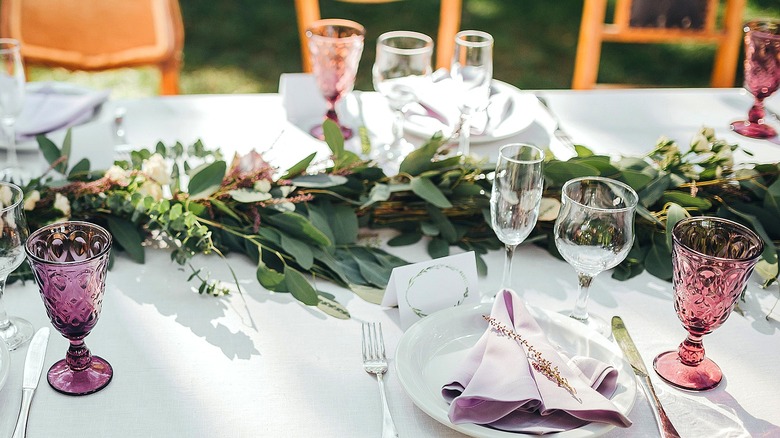 Alex Gukalov/Shutterstock
Finding the perfect seasonal décor for fall can be both challenging and expensive, particularly if you're looking for garlands to provide a natural backdrop to centerpieces, mantels, and console tables. While artificial garlands can certainly be pricey, dried natural greenery may also prove cost-prohibitive if you're looking to use a lot of it in your autumn decorating. You can, however, easily DIY your own garland using budget-friendly loose branches that are just as stunning. Even better, you can create it in under an hour with just ¾-diameter twine or rope, some floral wire, scissors, and, in this case, eucalyptus.
While this hack is perfect for eucalyptus, you can also use the same principles with other types of greenery, including boxwood, dried fall leaves, dried hydrangeas, and cedar branches. The DIY garlands are durable and perfect for draping across tables, hanging along doorframes, and adorning other spots in the home as fall décor.
Creating a DIY garland
To DIY your own eucalyptus garland for fall, begin by cutting your twine or rope to the desired length of garland you want. Collect several branches of dried eucalyptus and secure them around the rope with floral wire. Add more along the length of your garland, each bunch overlapping the next and hiding where they join together until you reach the end. Fill in any bare spots with more eucalyptus as needed.
You can make your DIY garland as thick or thin as you want by how bulky you make your bundles before attaching them to the center. You can also augment your eucalyptus with other elements like twigs, berries, and other natural materials fastened with wire to the garland. Add a ribbon or rustic burlap for an additional decorative touch. Place your finished garland on a flat surface and surround it with other fall décor, or drape it over spots like mirrors, windows, or doorways.