How To Turn An IKEA Wardrobe Into A Gorgeous Built-In Kitchen Pantry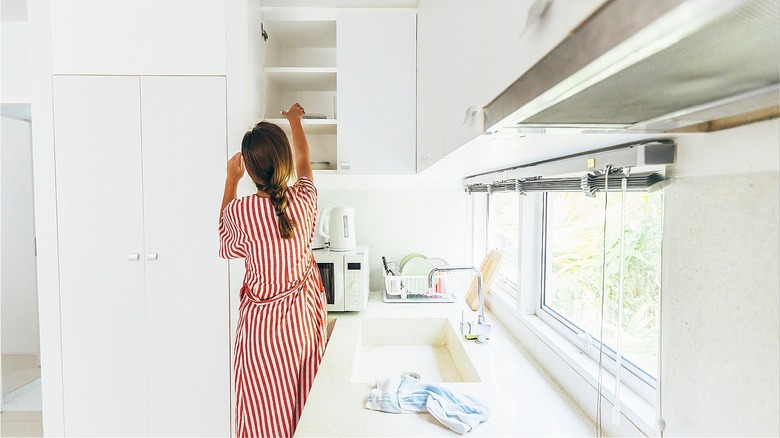 Alena Ozerova/Shutterstock
Cooking can be a great way to bond with your family, partner, or friends, but a lack of space and storage can quickly turn a fun group activity into a stressful mess. Unfortunately, small kitchen layouts often worsen this issue. Instead of having access to a luxurious, large pantry, many homeowners and renters have to settle for storing their dry foods, spices, and baking supplies in whatever corner of their cabinets is left vacant after putting away the dishes and pans. Thankfully, TikTok has a solution that can give you access to floor-to-ceiling pantry space on a budget, and all it takes is an IKEA wardrobe and a bit of elbow grease.
While it might seem a bit strange at first glance, a tall cabinet and a properly configured wardrobe are essentially the same thing. With a bit of customization, you'll be able to create additional kitchen storage that's both renter-friendly and much easier to install than built-in cabinetry.
How to do this yourself
On Tiktok, Weathered Gems are known for their furniture flips and transformations, so it's no surprise that they started out with a Facebook Marketplace find. In their video, the pair behind the account begins by disassembling a secondhand IKEA wardrobe (a bargain at $75; the three-door wardrobe looks similar to the PAX/FORSAND or the PAX/BERGSBO). They then sanded, primed, and painted the disassembled pieces to match their existing cabinetry. They also removed the smaller door along one side of the piece to create some exposed shelving to display pots and pans, and swapped the hardware to match what was already in the kitchen. 
If you plan to do this IKEA hack yourself, you could easily swap in an IKEA wardrobe you bought new, such as a PAX system mentioned above or one like the RAKKESTAD wardrobe, which also has three doors. You could also follow in Weathered Gems' footsteps and search for something secondhand. While on the hunt, look for something that matches the style and color of your cabinets as much as possible — the closer you get, the less work you have to do to make everything look cohesive — then simply place it along an empty wall in your kitchen. You'll be able to gain extra storage, free up space in your cabinets, and create a more functional layout, all without having to go through a more expensive kitchen remodel.