Sherwin-Williams' 2024 Color Trend Report Promises A Year Of Timeless Colors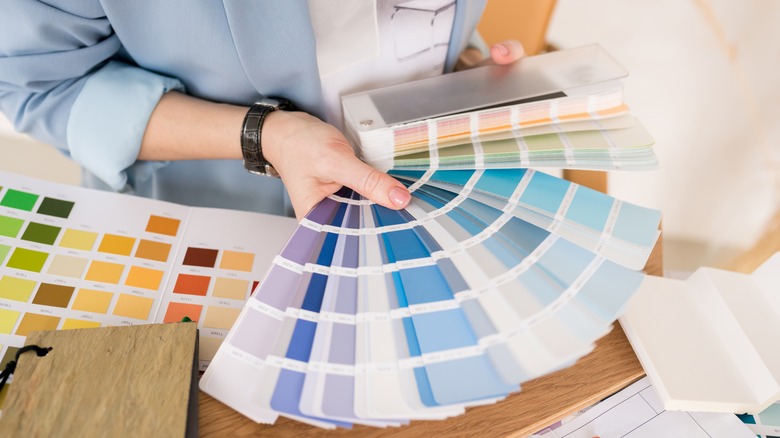 Tatiana Gordievskaia/Shutterstock
If you like to keep a finger on the pulse of color trends, Sherwin-Williams has you covered with its paint predictions for 2024. The first foray into color forecasting for Sherwin-Williams, the Colormix Forecast 2024, is grouped into four categories: blues and greens, reds and purples, deeps and darks, and delicate tints. These four categories each include 12 colors, so there's plenty of inspiration for you to delve into.
As director of color marketing Sue Wadden explained, "These color trends are poised to play a significant role in tomorrow's designs. From blues and greens to delicate tints, the leading shades of Anthology: Volume One are setting the color direction as we move into a new era of trend reporting." Whether your style is deep and moody blues or you prefer lighter, airier neutrals, Sherwin-Williams' forecast truly includes all sides of the spectrum — below are some of the standouts amongst the 60 colors that are predicted to be everywhere soon.
The colors chosen are unique and varied
First up, Blues and Greens. Within this section, the soothing light green shade Honeydew contrasts with expert pick Leapfrog, a vibrant olive green that will bring a sense of nature into your home. Also notable amongst the greens is Evergreen Fog (pictured above), a green-gray infused with blue that was the 2022 Color of the Year, and Pewter Green, another expert pick that will make you feel like you're in the midst of a forest. For blues, Georgian Bay will bring a sense of peace and quiet to a space and is the complete opposite of both Jacaranda, a bold and bright blue that's perfect for an accent wall, and Aquastone, a true swimming pool blue.
Moving onto Reds and Purples, playfully pink Dragon Fruit is the clear standout shade and is probably a nod to the Barbiecore trend that's still going strong. Meanwhile,  Fireweed will bring a grounding feel to a room thanks to its brown undertones, fiery red Habanero Chile will (literally) spice up a room without feeling too overwhelming, and 2023 Color of the Year Redend Point is a terracotta red that's a good neutral alternative for those who don't like traditional neutrals.  
These colors range from light to dark and everything in-between
The Deeps and Darks category features colors that will bring depth to a room. Firstly, April 2021 Color of the Month Carnelian, a deep violet-red that will lend a romantic vibe to a space. Next up are expert picks, Tricorn Black, a classic black that will act as the perfect foil to any color; Antiquarian Brown (pictured above), a comforting mid-brown that's part of the Sherwin-Williams Historic Color series; and Sealskin, a chocolate brown hue that's warm and welcoming. Another color that stands out in this category is Mossy Gold, a green shade with just the right amount of gold for added warmth. 
If you're a neutrals fan, the fourth and final category, Delicate Tints, is for you. Firstly, Snowbound, a dreamy cool white with gray undertones, was a September 2022 Color of the Month. There are additionally several expert picks in this category — Drift of Mist, a warm gray shade; Silver Strand, a gray-green hue with cyan undertones; Fleur de Sol, a coastal white with subtle hints of green; Skyline Steel, a cozy stone greige, and Light French Gray, a balanced light gray with both warm and cool tones that's included in the Historic Color series. Overall, the colors included in the Colormix Forecast 2024 are calming yet full of presence, with most featuring a truly timeless feel.