HGTV's Dave & Jenny Marrs' Hidden Wine Cellar Is A Fan Favorite Reveal For Good Reason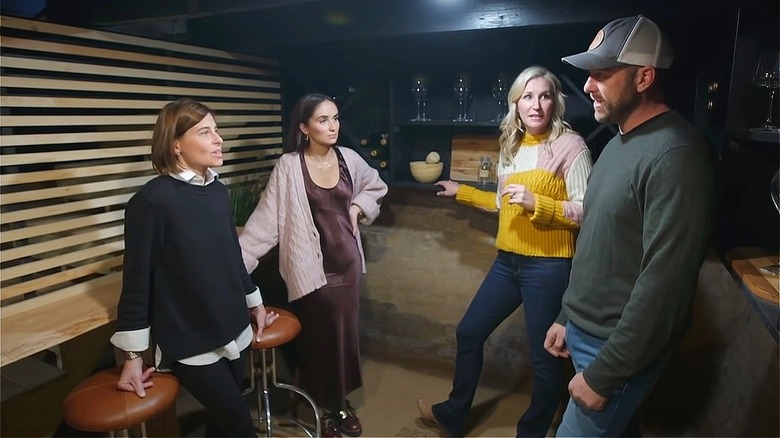 HGTV UK/YouTube
Dave and Jenny Marrs' hidden wine cellar renovation seen in Season 2, Episode 13 of their HGTV show "Fixer to Fabulous" has proven a fan favorite, and with good reason. The unexpectedness of the reveal was a surprise even to them. In the episode, the design duo discovered a boarded-up opening through the floor of their client's kitchen that led to a roomy, abandoned basement. Then, while scraping off the original flooring, the Marrses uncovered a rectangular-shaped hatchway with original brickwork beneath. Known for restoring historic properties within the northwestern part of Arkansas, Dave and Jenny Marrs were able to salvage the clandestine space in a new, distinctive way.
For client Bowman Cooper, craftsman Dave Marrs developed a high-tech feature within the kitchen island — one that led to the newly discovered wine cellar. The moment Cooper sees her new cellar is captured in a YouTube Short. Following a gentle push of the countertop, Cooper is startled as the countertop gives way to a hidden staircase. "This is so cool!" she exclaims, as the group makes their way down to check out the cellar below.
A clever reno, the big reveal received understandably positive feedback from fans of the show with about 1,000 likes (and counting) on the YouTube Short. One fan responded, "Now this is what I call a hidden room." While Dave and Jenny Marrs' secret wine cellar reveal is captivating for many, the innovative design goes beyond the norm through the pair's art of restoration and presentation.
A modern, rustic wine cellar with a secret entrance
Dave and Jenny Marrs' concealed wine cellar takes interior design to an extraordinary level. Although reinventing the one-of-a-kind basement has become popular among HGTV fans, it was an instant perk for the Marrs' family and friends as well. "This was one of our favorite projects, EVER — we loved showing it off and could not wait to surprise Bowman [Cooper] during the reveal," said Jenny Marrs (via Dave & Jenny Marrs). With restricted square footage throughout the home, the designers decided to build a hidden staircase through the kitchen island. Most cellar doors may typically be made of wood or glass, however, Dave Marrs' mechanical countertop that transforms into a staircase provides amazement while remaining discreet.
Below the surface, the room is chic, yet rustic with a blend of old and new materials. After leveling out the concrete floor, the Marrses restored the over 100-year-old home's brickwork, including the chimney. With original brick wainscoting, the walls feature dark, blue-gray wood paneling and several built-in wine racks to display bottles and glasses. Additionally, Dave Marrs handcrafted a wooden table and privacy wall with two brown leather stools positioned at the bar. After seeing the entire cellar, client Bowman Cooper said with approval, "I know where I'm going to go after work now."