HGTV's Jasmine Roth Shares Her Clever Trick For Decorating A Hallway On A Budget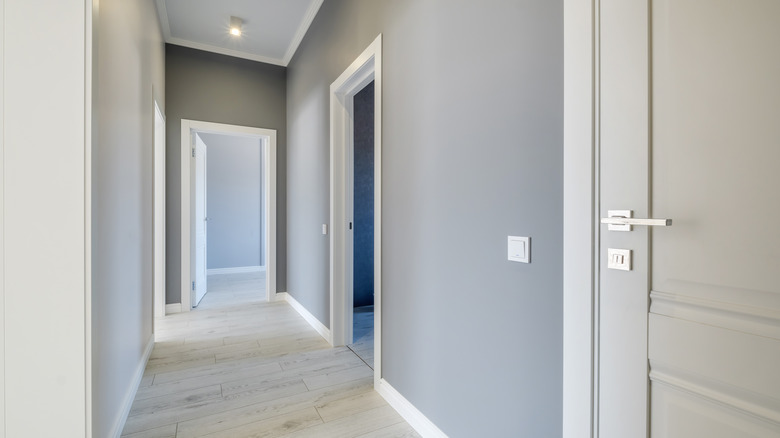 jantsarik/Shutterstock
Because it's not a space you may be spending a lot of your time in, you may not want to spend a ton of money on decorating the hallway. Most people want to focus on the main spaces like the living room, bedrooms, kitchens, and bathrooms. However, Jasmine Roth from HGTV's "Help! I Wrecked My House" has an easy trick to add one-of-a-kind art to the hallway without spending a ton of money. In a Facebook post, Roth shared that she used vintage Kantha fabric and framed it using picture frames from IKEA to create art for her hallway. The result is a stylishly minimalistic feature that looks like it came from a modern art museum for a fraction of the price of buying art.
Overlooked spaces like the hallway should also get just as much attention. But why put time and effort into decorating them? Without decor and furniture, these spaces can feel disconnected and forgotten. "Dressing it up helps it feel like it's not just a service space, and elevates all the rooms that open off of it, too," interior designer David Frazier tells the New York Times. Adding console tables, benches, and art can make the hallway feel like a room in your home and connect it to the rest of the design. Using Roth's tip of framing fabric adds instant decor without breaking the bank.
Framing fabric for art
"This 'art' is vintage Kantha fabric, that I cut and put into IKEA frames," Roth explains in a Facebook post. "I love getting creative (and keeping it cheap) in high-traffic areas." This wall art idea is highly customizable as you can find any kind of fabric to frame. Look for textured, woven, and embroidered fabrics to add more dimension.
As for framing, you can use a professional service to frame the fabric. However, this is an easy project to take on yourself. All you need is a standard picture frame in the size and finish you want to display. You'll also need ¼-inch plywood the size of your frame and a heavy-duty stapler. Place the fabric with the printed side down and the plywood board on top. Wrap the leftover edges of fabric to the back of the board, pull it taunt, and secure it with a staple. Place the fabric-wrapped plywood into the frame and use the prongs to keep the board in place.
You can either leave the glass in the frame or remove it. The glass will protect the fabric, but it may have a glare. Using just the frame will allow you to see more of the texture. Ultimately, it depends on the look you're going for.