Keep Your TV Cords Hidden And Your Room Clutter-Free With This Clever IKEA Hack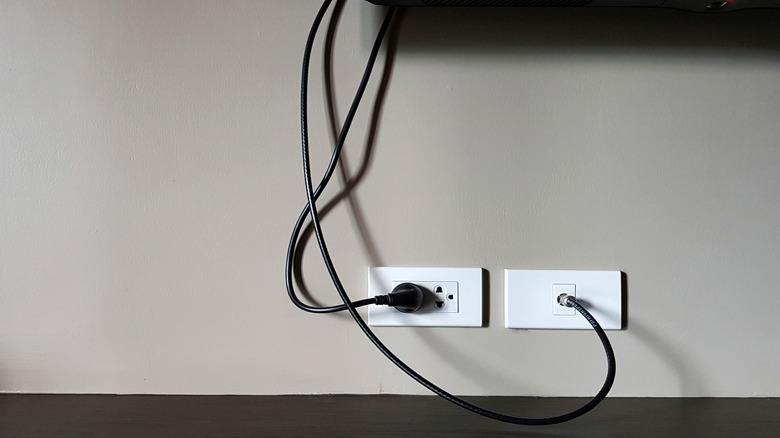 Sawangkaew/Shutterstock
We've all been there: you look around your home and see messy wires around your television. It doesn't matter if it's in the living room or bedroom — these wires can turn the most tranquil space into a chaotic mess. Luckily, the IKEA BESTÅ conceals even your messiest wires. And the best part? This storage system is affordable and comes in various sizes to accommodate any space. IKEA sells storage units with and without doors, so you can pick the piece that best fits your style while organizing your TV wires. You can even purchase matching pieces to redo your entire home in this style. 
If clutter doesn't bother you, but you have pets or kids, you should still carry out this hack. It allows you to keep dangerous wires hidden and out of sight, providing you with peace of mind. You can even child-proof it with locks once it's installed. And anyone looking for eco-friendly ways to declutter their home will appreciate that the IKEA BESTÅ incorporates recycled paper when making this product, organizing your home while keeping trash out of landfills for the ultimate win-win. You can use this incredible hack to hide your TV cords and create a clutter-free home in no time. The next time you shop for decor from IKEA, be on the lookout for the BESTÅ TV unit.
Assemble your IKEA BESTÅ
This awesome TikTok hack starts with an IKEA BESTÅ. According to user @maxistories, all you need to do is purchase your IKEA BESTÅ, assemble it, and place it beneath your TV. Then, you can begin decluttering your living space. The IKEA BESTÅ comes with a cable outlet on top, allowing you to effortlessly snake in messy TV wires. Even better, the back of this TV stand has a number of outlets for you to plug in all your devices — TV, DVD player, Nintendo Switch, and more. 
If you're looking to free up floor space, the IKEA BESTÅ "floats" by directly installing it onto the wall. This way, you can incorporate baskets in your home for stylish storage (depending on how high you install your IKEA BESTÅ). The only visible wire will be the wire coming from your TV to your TV stand, but you can cover this with a cord cable concealer. You'll not only hide messy TV cords thanks to this creative hack, but you'll also add storage space at a reasonable price.