The Kitchen Design Trend HGTV's Christina Hall Says Will Never Go Out Of Style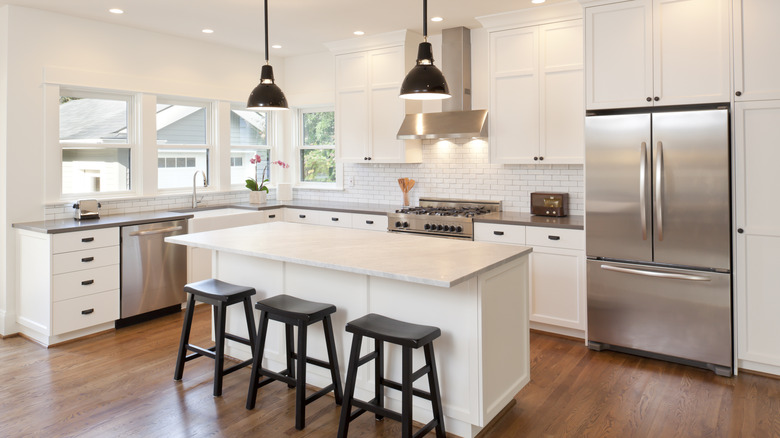 Chuckcollier/Getty Images
HGTV's Christina Hall is famous for her ability to transform homes beautifully on her hit show "Christina on the Coast." Hall's design tactics often meld together various styles to cater to homeowner's tastes, creating a custom space that meets their needs. This ability is showcased in an episode of the show where she designs a gorgeous all-white, open-concept kitchen that brings in both the wife's love of modern farmhouse touches and the industrial accents favored by the husband. The key to a stylish and timeless kitchen that never goes out of style? The all-white cabinets and countertops, a color scheme that Hall says creates a classic look that will endure for many years as trends come and go.
While the renovation involved more drastic measures like tearing out walls to make the space open and replacing corroded plumbing, Hall's choice of white for counters and cabinetry not only works to make the space more open, inviting, and filled with light than the previous warm wood cabinets but also successfully allows the modern farmhouse and industrial accents to coexist and make sense together.
Timelessness and endurance of all-white kitchens
The white cabinets are perfectly paired with warmer-toned wood floors and an island base that matches the couple's existing dining table, a piece that reflects both the rustic wood feel popular in modern farmhouses and the studded metal accents and black that befits industrial rooms. Touches like baskets and cutting boards offer warmth, while the over-island lighting, a pair of wrought iron black lanterns, appeal both to industrial and farmhouse style. Modern shaker-style white cabinets are a great backdrop for everything else that remains classic, allowing spaces to change and shift in minor ways around them.
Suitable to a number of popular design trends, like farmhouse style and industrial, an all-white kitchen is endlessly adaptable. The cabinets and counter can be customized by other accents, like lighting and hardware, all of which can be changed over the years as your tastes change. White is also very flexible in allowing you to embrace various color schemes, serving as a perfect backdrop for both other neutrals and shades as accents.