Here's How Much You Should Expect To Spend On New Patio Furniture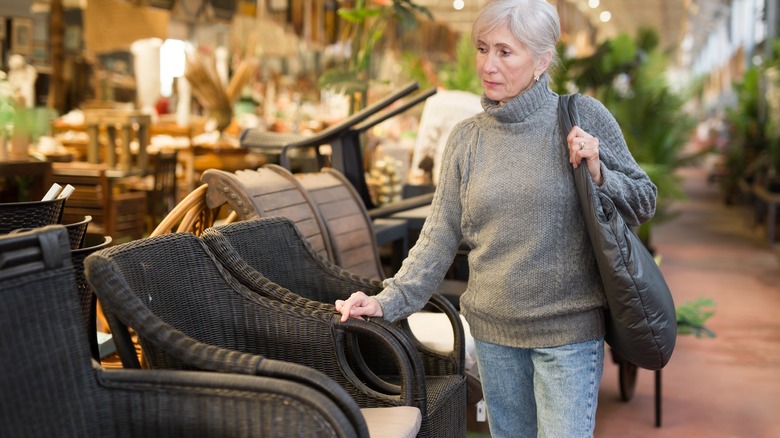 BearFotos/Shutterstock
Style, size, and type are all factors that play a role in how much you can expect to spend on patio furniture, though costs typically range from $90 up to $3,000. The key is to know what you need and want from your furniture based on how you plan to use this space. A dining table and chairs set may cost anywhere from $200 to $3,000, depending on the style. If you are looking for a simple set of chairs to relax on, you may be able to spend under $100.
Before you buy any patio furniture, take a closer look at your space. Consider the layout you plan to use for your new set. Do you need an area to relax with drinks with friends, enjoy a bonfire, have a Saturday afternoon lunch, or host formal events? You'll also want to consider the number of people you may host, as that determines not only the type of furniture but also the layout and functionality. Then, think about the surface of your patio area. You want to be sure the furniture base can sit evenly on the surface. Thinner leg bases on a paver patio will create too much wobble, for example.
Don't overlook the aesthetics. Choose a style you love, from composite to metal. You may also want to think about the weather conditions, weight limitations, and overall colors based on the surrounding space and your needs.
Patio furniture functionality and style costs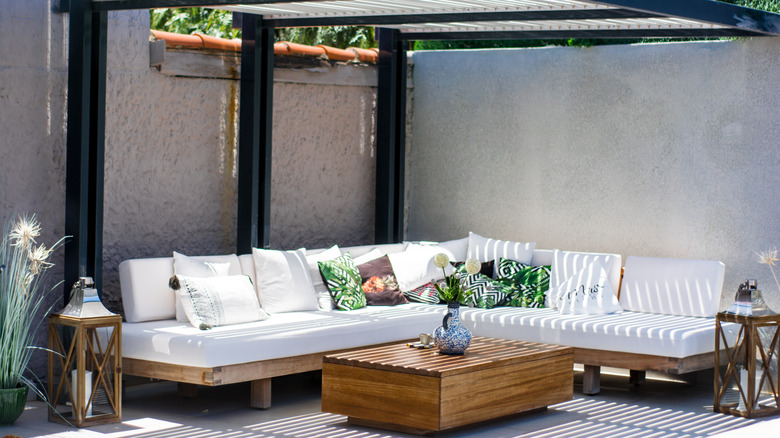 Buz/Getty Images
The larger the patio furniture set, the higher the cost could be, but don't overlook pieces that offer the functionality and quality you need. If your outdoor space is likely to be an area to relax and chat with friends, you may appreciate a sofa-style set, which typically provides seating for 4 to 6 people. Costs range widely from $500 up to $8,000 or more, depending on the number of pieces. Adding a chaise lounge into the mix may add another $50 to $1,000 to the cost, depending on the style. Also, consider smaller coffee tables, which can range from $50 to $400 alone.
For those looking for patio furniture that incorporates more of a dining table design, costs will depend on the material and size. Smaller bistro-like tables typically offer seating for two or three people and may cost around $50 to $500. Dining sets that offer space for 4 to 6 people, which tend to be a common option, may cost between $200 and $4,000. It's possible to buy much larger options too, including those with bench seating that allows 10 or more people to sit around the table for a big dinner party.
You may pay more for added pieces like fire tables and ottomans. Some patio furniture sets incorporate things like accent pillows, too. In other cases, you may need to pay a bit more for additional cushions.
Factors that contribute to the cost of patio furniture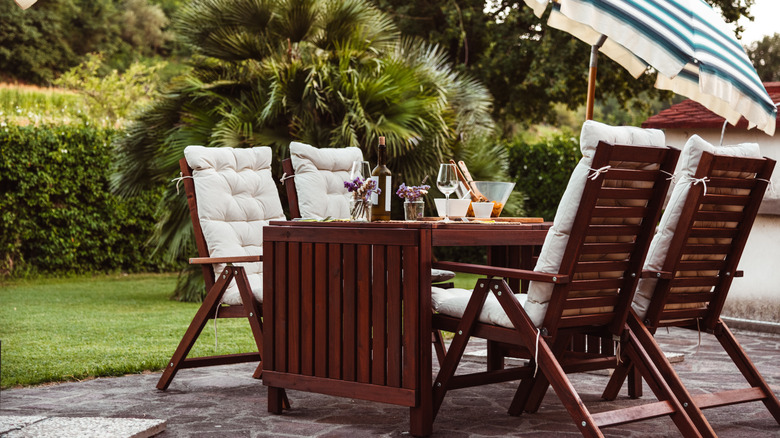 Franckreporter/Getty Images
When considering how much to expect to pay for patio furniture, don't overlook both quality and material. A well-designed piece may cost a bit more but last through several longer winter seasons. On the other hand, if you're not planning to live here long, you may want a product that's going to be easier to replace with less money invested.
Avoid paying just for a name-brand product, though. Instead, look at the construction and overall design of the item. More ornate and intricately designed pieces, such as those with wrought iron built into them or beautiful wicker detailing, may cost a bit more than a plastic set of chairs. Some furniture may need more frequent updates, such as the purchase of new cushions every few years because the existing models are too thin to last, while other products, like composite decking, don't allow for a lot of freedom to change up the style over the years. For those looking for versatility, consider modular furniture for your outdoor patio, which could cost a bit more.
Material is a big factor, with numerous options to consider. HDPE lumber and plastic products tend to be durable outdoor furniture but have a higher cost. Aluminum and wood may be slightly less, depending on the overall quality, but they may also require more updates and maintenance. Wicker is a fantastic option for many areas, but the cost will depend on the actual manufacturer and overall construction quality.