The IKEA Curtain Rod System That'll Instantly Elevate Your Living Space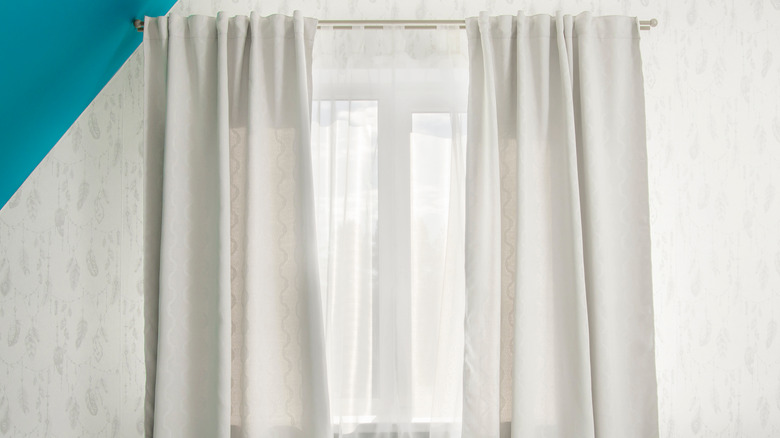 FotoHelin/Shutterstock
Curtains are arguably essential in any space, with the market almost worth a staggering $40 billion, according to Statista. If you're a fan of sheer curtains or simply want to add some drama to your space, then the IKEA curtain rod system could help to completely transform your space. Not only will it let you mix and match different curtains and various styles, but it also comes at an affordable price. What more could you ask for? So, if you're looking to upgrade your space on a budget, this curtain rod system may be perfect.
Of course, the system may also help if you're having trouble blocking out light from your room or if you're struggling to add several curtains to one individual window. If this sounds like you, then this could be the perfect solution to your problems. While this stylistic choice can make the process feel frustrating, it doesn't have to be. Below, we'll break down how you can use the IKEA curtain rod system to elevate your living space and add a breath of fresh air.
Use the RÄCKA range for hanging multiple curtains
The RÄCKA range from IKEA is an excellent choice if you're looking to get creative. You can create a double or a triple rack, which is perfect if you're looking to mix and match multiple curtains. This can allow you to play with style and color and even add some extra sheer curtains if you don't want people peering into your home. All you need is some RÄCKA curtain rods, some RAFFIG finials, and a BETYDLIG wall ceiling bracket, and you're ready to go. Now, you just need to assemble them and attach your curtains. The easiest way is to start with the brackets. Although it may seem fiddly at first, you should be able to figure the system out with a bit of persistence. Just make sure that you select the right length for your windows!
When it comes to stylistic choices, you have plenty of options. For example, you could use a combination of sheer curtains with blackout curtains, or you could just stick to sheer. Experimenting with different styles and colors should help you to find what best suits your space. Much of this will boil down to what the function of the room is and how you intend to use it. Once you figure that out, you'll be able to decide what's best when it comes to elevating your room.
It hangs two curtains at once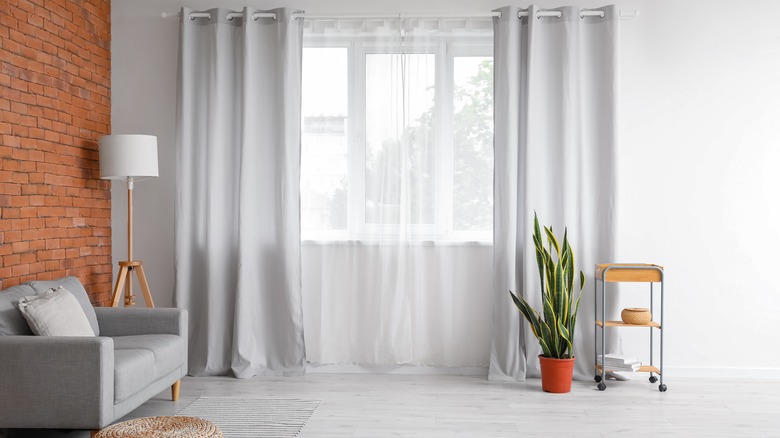 Pixel-Shot/Shutterstock
This curtain rod system works so well because it's easily customizable and can hang two different curtains in the same space, allowing you to have full creative freedom to help add a dash of creativity to your space. Without the second rod, you wouldn't be able to have that extra curtain to either add or suppress the amount of light in a room. For example, you might use blackout curtains and sheer curtains in a bedroom. Just make sure that your curtains are the same length; otherwise, the final result may look a bit disjointed.
In addition, you can also customize the look by experimenting with various finials. This is another great way to add your own personal touch to a given room. Of course, you should always take into consideration the weight of the curtains, as you want to make sure the rods can hold them up. After all, there's nothing worse than droopy curtains or a damaged wall.