The Trendier Alternative To The Dated Pastel Paint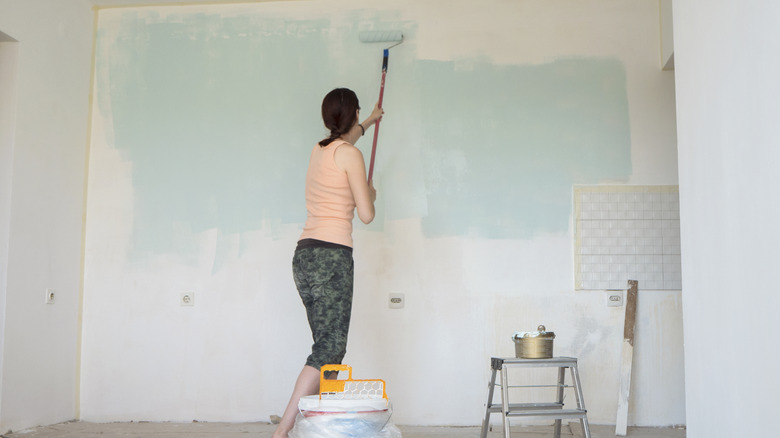 Nemke/Getty Images
There is something undeniably charming about pastel-colored walls. They are light, airy, and oh-so-charming. In the world of interior design, though, things often stay on-trend for a short time — in this case, pastel paint. If you still yearn for that light, airy, spring look, though, you've got options. These include subtly toned colors to mimic the soft vibe or bucking tradition altogether and going for something a little bolder.
Pastels and other light colors (hello millennial pink) became especially popular during the pandemic, maybe because we needed something calming and inoffensive to soothe our souls and distract us from the chaos outside. Either way, now that things are finally returning to normal, lavender and a light mint aren't the go-tos anymore. "Our craving for gentle pastels that arose during the pandemic and took hold in our design consciousness is waning," Patrick O'Donnell, an international color consultant, told Better Homes and Gardens. So, here's how you can bring your paint colors into the post-pandemic design world. 
Think darker and dynamic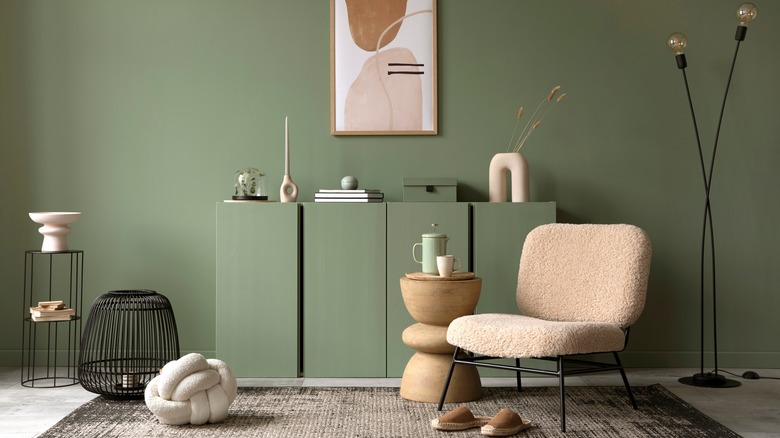 Followtheflow/Shutterstock
These days, peachy pink or a robin's egg blue might look a little dated in some parts of your home. If you still want that subdued look, though, we suggest going with something cooler-toned for a more modern look. And don't be afraid to take risks with color that could pay off in big, statement-making ways. Hannah Yeo, Manager of Color Marketing & Development at Benjamin Moore, explains to Better Homes and Gardens, "For 2023 and beyond, colors are getting more confident as we push our comfort zone and celebrate the dynamism of color."
O'Donnell recommends scratching the pastel itch with similar hues but in bolder and more daring tones. For example, swap the pastel green for a mossy green to create a posh feel. You'll still get the vivid color but with an elevated vibe. Another problem with pastels is that they can make a room look a little flat if the paint colors are too light. To remedy this, go a little darker than you otherwise would.
Consider the room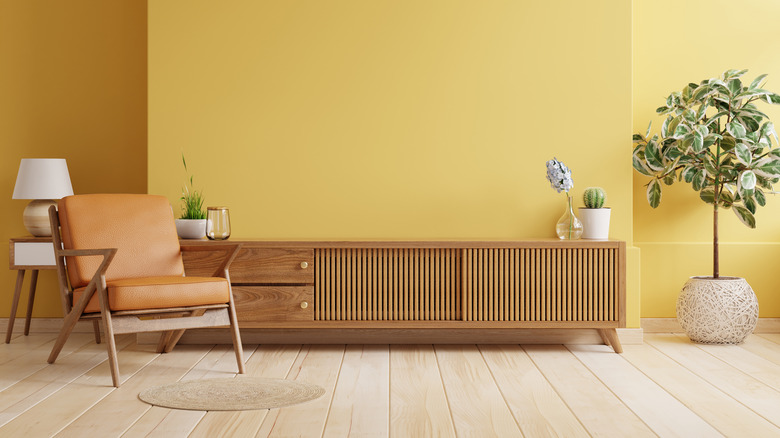 Vanit Janthra/Getty Images
The fact remains that as much as you may love the pastel look, it simply will not work in some rooms. Light colors tend to show dirt, so painting a mud room, laundry room, or playroom in a calming lavender likely won't work out in the long run. Before you know it, you'll spend too much time scrubbing scum and dirt stains from your prettily painted walls. In a room that won't work as a light color, and in which white is way too dull, your best bet may be to eschew the pastel trend and go for something much bolder.
Long-held beliefs about interior paint fall by the wayside as we modernize our home decor. Moore tells Better Homes and Gardens, "It is no longer about what you should or should not do because of the size of the room or the direction it faces; colors are about expressing your identity creatively.". Moral of the story? If you're thinking about repainting your favorite room forget the muted pastels and go for something bold — you won't regret it.