How Fixer Upper's Joanna Gaines Warms Up An All-White Room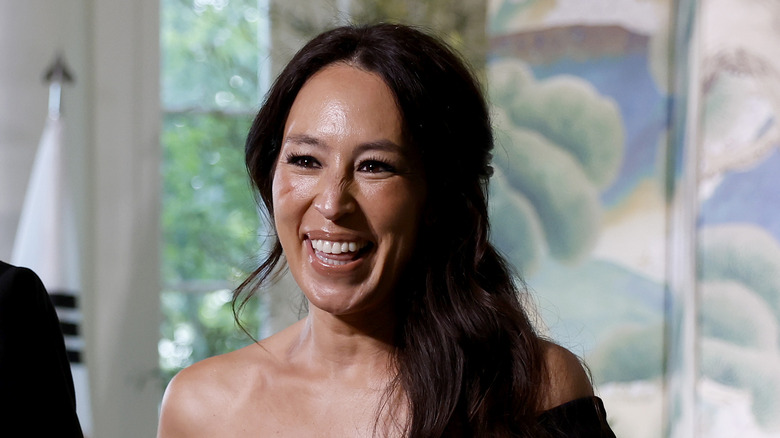 Anna Moneymaker/Getty Images
It's no secret that all-white rooms have become trendy within the last decade thanks to HGTV's Joanna Gaines. A white room embodies everything bright and airy rooms should be; to provide a space that feels clean and fresh. While Gaines says she loves working with all-white spaces because "any color you add to it really pops and comes alive," the challenge still lies with making the room feel warm (via YouTube). But, with a little play on texture, the bright space evokes all the feelings of warmth and invitation.
Since all-white rooms are so bright and airy, incorporating various textures is important for keeping the room visually balanced. White is a color that makes it easy to appear too smooth or too unison which is why the different textiles are able to come alive and give the room more interest. The texture also adds warmth that breaks up the brightness of an all-white room without distracting from the clean feeling that Gaines says makes your mind feel at ease.
Tips for adding texture to your all-white room
When adding texture to an all-white room, it's really important to focus on adding items that feel inviting to break up all the coldness. Wood is one of the best textures to warm up a white room since the grain contrasts the brightness. Choose furniture pieces that incorporate wooden legs or decor pieces like wooden candlesticks as a nice accent to complement the space. You can also opt for sofas that have linen upholstery or chenille since these fabrics have particular weaves that add a comforting feel to a room.
Another way to warm up an all-white room with texture is by laying down an area rug with high pile. Shag rugs, even those that are white, make a room feel warm and inviting by also providing a plush place for your feet. Rugs up the drama in any room and can easily tie a space together with their various prints and patterns, which means they're perfect not only for adding warmth to a bright and airy room but also for visual interest.