DIY A Stunning Wall Sconce On A Budget With This Creative IKEA Hack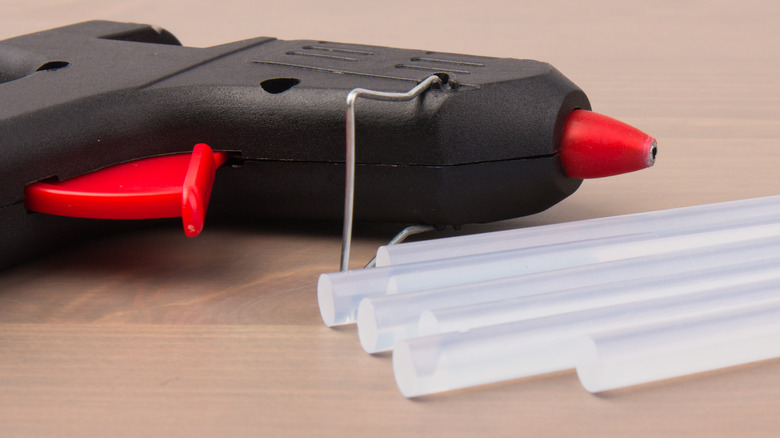 Olga Shestakova/Getty Images
Wall sconces can be a beautiful way not only to add illumination to a space, but also to liven up a blank wall. They look amazing flanking elements like doors and fireplace mantels, as well as providing great ambient lighting in spots where a traditional lamp doesn't work. A recent hack on Instagram from designer Sarah Teresinski (@redeux_style) shows how to easily transform an inexpensive IKEA item, the VARIERA plastic bag dispenser, into the framework for a stylish custom sconce. Even better, with the bag holder costing under $5, the entire project can be accomplished for well under $10 dollars in materials.
The VARIERA, meant to stash plastic bags in a compact and organized manner, is the perfect shape for a cute lightweight sconce with the addition of some fabric, hot glue, fringe, and battery-operated LED lights. The sturdy plastic holds its shape and already boasts hanging hardware, both nail holes and adhesive strips, making the holder easy to put on the wall.
creating a DIY sconce
Begin by assembling the VARIERA and placing a remote-controlled battery LED light inside on the bottom of the holder. Cut your fabric to size to cover the entire outside area of the VARIERA, leaving a bit of extra so you can turn the edges under for a neater look. Using a hot glue gun, apply the desired fabric around the entire holder to complete the shade. Add fringe or other accents like buttons, beads, and crystals to customize the sconce. For an even more budget-friendly hack, use leftover fabric and trim from other projects since you will only need a small amount for each sconce. You can also use sturdy decorative paper.
These inexpensive sconces are perfect for transitional spaces like short-term rentals and dorms for adding a bit of architectural interest to walls. Unlike traditional wired sconces, the battery and remote make them easy to install and operate without requiring expensive electricians, DIY re-wiring, or unsightly dangling cords. When the LED light goes out, you can simply swap it out for a new one. The sconces instantly add a sense of glamour to any room. You can also remove the fabric and recover them when you want to change things up.