Nate Berkus' Top Tip For Maximizing Space In A Small Bathroom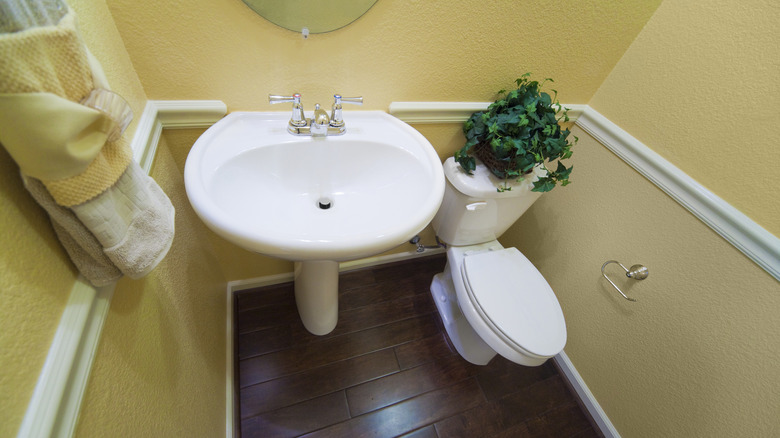 Slobo/Getty Images
Bathrooms are often one of the places we need the most storage. Unfortunately, they can often be places where it's in short supply. While larger bathrooms can accommodate built-ins and cabinets, smaller spaces often have only room for essential fixtures. Add more, and the space is too cluttered and often difficult to clean. Luckily, on an episode of "Tasty Home," interior designer Nate Berkus recently discussed his suggestion for adding a bit more storage space in smaller bathrooms. The fix is to create storage in currently unused areas.
A viewer posed a question about her small bathroom's lack of space for toiletries and essentials, saying that her open cabinet in the corner over the commode was not only tiny, ugly, and had limited space but also that objects had a danger of falling into the toilet on occasion. In order to make use of the space she did have, Berkus suggested she add floating shelves on the adjoining wall and use attractive baskets for concealment and organization.
Benefits of floating shelves in the bathroom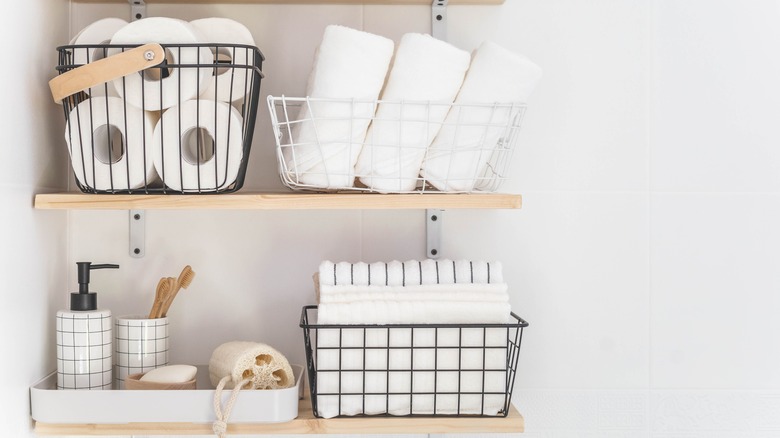 Kostikova Natalia/Shutterstock
Floating shelves can be a lifesaver in any room, especially in smaller spaces. Because they do not sit on the floor, they grant a far more open and less cluttered feel. Shelves are typically easy to install, even on a budget, with many models available complete with the hardware to quickly install them. A DIY approach, for example, would be using simple wooden planks mounted on L-brackets, typically available at any hardware store. The baskets help keep things out of sight and more organized, lessening the likelihood of falling objects. 
The effect is intentional and polished, keeping everything in a bathroom within easy reach. The width of the shelves can be thicker in spaces higher on the wall and above fixtures like the toilet, where they do not interfere with traffic. Slenderer shelves are perfect at lower levels that might need more clearance for movement, where they can still hold extra bottles of shampoo or rolls of toilet paper. You can leave the shelves natural for a more rustic look or paint them the same color as the wall behind them to give them a discreet appearance. Floating shelves also provide a great place for decorative items, like plants, stylish storage jars, or containers.