Here's How Joanna Gaines Adds A Touch Of Character To A Kitchen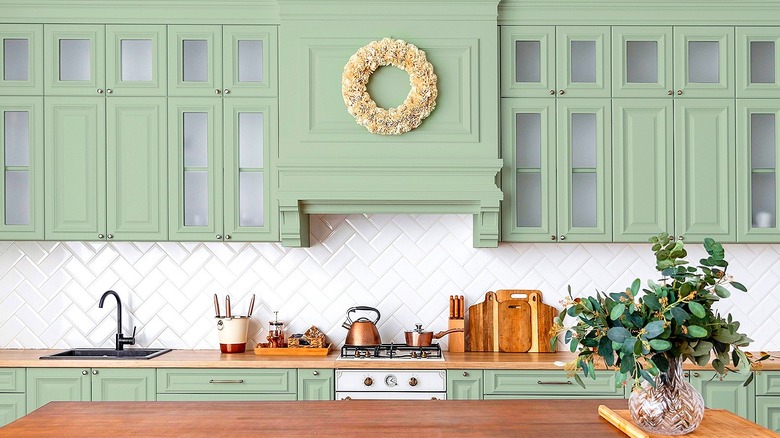 james benjamin/Shutterstock
All of the interiors that Joanna Gaines designs have a natural charm to them. Her signature cozy modern farmhouse has been a top trending style for years and a decorating inspiration for many. One room that Gaines always pays special attention to is the kitchen. As one of a home's most-used spaces, function for kitchens is a necessity, but Gaines never lets the aesthetic side fall by the wayside. To add character, she often employs tile. For one client, for example, she used a handmade blue-and-white tile for the kitchen backsplash, which added color, charm, and character to the space without overwhelming it.
Character in home design is a feature that adds a unique touch or a one-of-a-kind detail that isn't in the standard home. For Gaines' client, the new tiled backsplash became that feature for the kitchen. "[S]he wanted charm, she wanted character, but she also wanted simplicity," Gaines explained in a Home video (via YouTube). "We found this really fun, handmade tile that I think really sets the stage for this kitchen," she said.
Adding character to a room with tile
With so many options for color, shape, texture, and layout, you can create a truly customized detail in your home using tile. Like Joanna Gaines, you can use tile to add character and a pop of color to an otherwise neutral-colored kitchen. Speaking about her client's blue-and-white kitchen backsplash, Gaines said (via YouTube) that the color combination was due to her client's love of the two colors, and as for the rest of the kitchen, she went with a complementary, simple design to let the backsplash stand out. "I tried to keep everything else very simple so it wasn't overwhelming for her," Gaines said.
You can also add visual interest by using tiles, opting for unique shapes and textures. Further, you can make the tile as big or as little of a statement in the room as you see fit. Make it a small statement by using tile in between the upper and lower cabinets, for example. Or, if you want more of a design feature, opt for tile that runs from the counters to the ceiling.
Also, you don't have to stick to using tile for only a kitchen's backsplash. Instead, find some unexpected places in the kitchen space to add this unique feature. Consider using it on a wall of open shelving or as a feature in the breakfast nook. Using tile on the back wall of a nook helps define the space while adding some color and pattern. Plus, it's a feature that not every home will have, adding instant character to the room.