Give Your Old Patio Table A Chic Refresh With This Budget-Friendly Hack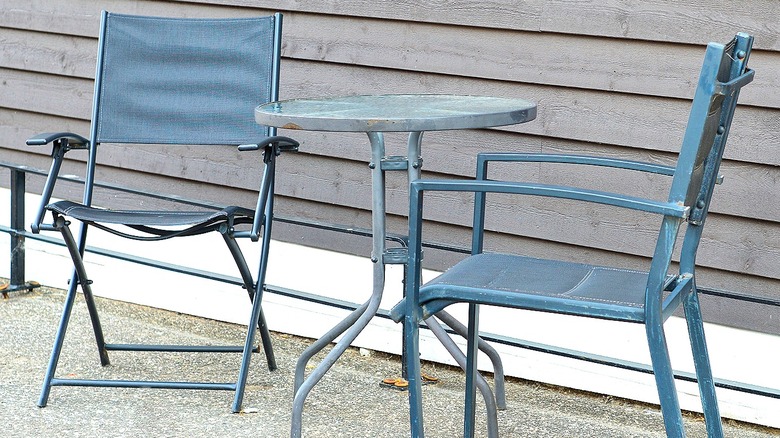 Dolores M. Harvey/Shutterstock
Outdoor furniture can have a rough existence. The damage from sun, water, wear, and grime can make a favorite table not so favorite within a few seasons. Since outdoor furniture can be expensive to replace, however, you may be stuck with a less-than-perfect set or piece until you can afford to swap it out. As a solution to this problem, TikToker @hometalk, recently showed off how you can easily and cheaply rehab even the most unattractive and worn-out patio table — right now.
Using some spray paint, adhesive, and rattan, you can give your patio table a DIY makeover in line with popular styles of outdoor furniture that can cost hundreds new from retailers. The design hack works on everything from low-side tables to outdoor dining sets. It works particularly well on glass-topped patio tables that have seen better days. This DIY is a great option for furniture that is constantly out in the elements since it's also repeatable as needed. Add a fresh new coat of paint and some new rattan for an instantly refreshed table.
DIY a fresh and trendy look for your old patio table
To refresh your old patio table like TikToker @hometalk, begin by taping off the parts of the table you don't want to be painted. Then, use your desired color of spray paint (here, a stylish matte black) to coat the legs and base. Cut a circle of rattan the diameter of your tabletop, then use spray adhesive to stick it down, trimming and cleaning up the edges as needed. You'll instantly have a rattan table with an elevated and expensive look with a very budget-friendly price tag.
While @hometalk chooses to create a very on-trend black-and-rattan piece, there are many other options for making this hack work for your outdoor space's particular aesthetic. For example, you can choose any color and finish of spray paint you like, and any durable material for the top, including vinyl, waterproof contact paper, and other varieties of woven materials. Use it on mismatched tables to create the look of a cohesive set of outdoor furniture or vary the pattern or color of your tabletops to add pops of color and interest.